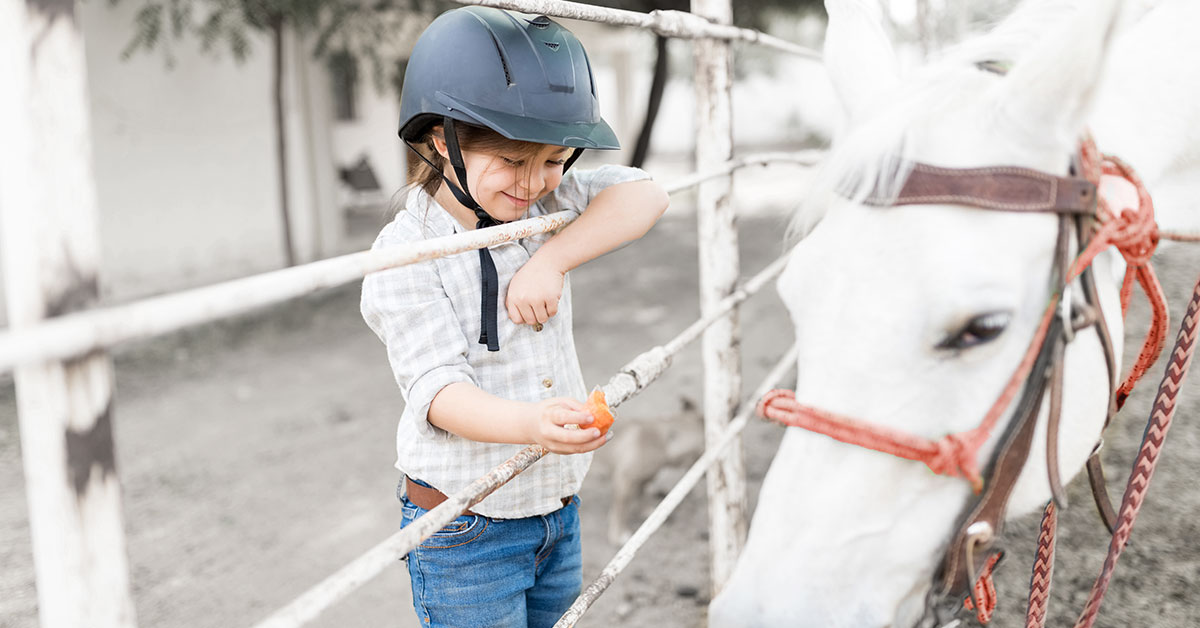 Animal-assisted therapy (AAT) is an intervention that uses pets to provide assistance to humans in a therapy setting. In occupational therapy, an animal such as a horse or dog can assist treatment to help clients achieve desired outcomes.
AAT relies on the bond that can be made between humans and animals who have the optimal temperament for therapy. Including animals in therapy has become increasingly popular over the last few decades, but more research is needed on its efficacy and benefits.
Animals that can be used in therapy include:
Dogs & cats
Horses (hippotherapy)
Birds
Rabbits & guinea pigs
AAT May Help Clients on the Autism Spectrum
AAT can be a good form of treatment for occupational therapy clients of all ages who are on the autism spectrum.
It is helpful because:
AAT helps people learn to communicate better, which allows them to interact more easily with other people and animals.
AAT promotes enjoyment, engagement, and motivation.
It can promote self-regulation skills and community participation (London et al., 2020).
AAT Can be Used in a Wide Variety of Settings and Populations
AAT can be used in a variety of settings and populations. These may be structured in individual or group sessions. AAT may be utlized in a variety of environments, such as nursing homes, hospitals, schools, libraries, rehabilitation centers, and therapy offices. Specialized AAT therapists (e.g., hippotherapy) may offer outdoor settings for clients.
AAT Animals Differ From Service Animals
Service animals live with people who may have mental health conditions or sensory differences (e.g., low vision). They are trained to provide support and help their owners with daily tasks, such as taking medication. They are protected by the Americans with Disabilities Act (ADA) and are allowed in public places.
Emotional support animals differ from service animals and animals used in AAT. Emotional support animals are pets that provide comfort and companionship to their owners. Although they provide great benefits to their owners, the ADA does not protect them and they do not have access to public places.
Benefits of AAT
Trained AAT occupational therapists can include animals on their treatment team to help clients achieve their goals. The occupational therapy practitioner may have the animal play a specific role in treatment, such as providing comfort, keeping clients grounded, building rapport, practicing communication and socialization, and working on specific skills.
Benefits of AAT include:
Lower levels of anxiety & depression
Improved social skills
Increased feelings of self-esteem & self-efficacy
Improvements in quality of life (Maujean et al., 2015)
Resources
Occupational therapy practitioners who would like to include or improve their inclusion of animal-assisted therapy (AAT) in OT practice will benefit from the OccupationalTherapy.com course Animal Assisted Therapy As An Adjunct To OT, presented by Melissa Winkle, OTR/L, FAOTA, CPDT-KA, and Phoebe Yam, OTD, OTR/L.
Dogwood Therapy Services offers general Animal Assisted Intervention and AAT-specific webinars, workshops, post-professional rotations, and internships.
Animal Assisted Intervention International offers membership, standards, competencies, and accreditation for healthcare professionals who have dogs in practice.
References
London, M. D., Mackenzie, L., Lovarini, M., Dickson, C., & Alvarez-Campos, A. (2020). Animal-assisted therapy for children and adolescents with autism spectrum disorder: Parent perspectives. Journal of Autism and Developmental Disorders, 50, 4492–4503. https://doi.org/10.1007/s10803-020-04512-5
Maujean, A., Pepping, C. A., & Kendall, E. (2015). A systematic review of randomized controlled trials of animal-assisted therapy on psychosocial outcomes. Anthrozoös, 28(1), 23-36. https://doi.org/10.2752/089279315X14129350721812