Editor's note: This text-based course is a transcript of the webinar, Traveling In A Wheelchair: Tips, Tricks, And Tools To Help Your Clients Travel Successfully, presented by Kathryn Sorensen, OTD, OTR/L, ADAC.
Learning Outcomes
After this course, participants will be able to:

Recognize US federal laws that impact travel and protect people with disabilities, including the ACAA, ADA Title II and Title III, and Paratransit services.
Identify the different areas that a person in a wheelchair needs to plan ahead for when traveling.
Identify at least 3 practical solutions for traveling in a wheelchair.
About Me
Thanks for having me today. I am a fieldwork coordinator at UNC-Chapel Hill and a professor there, but more importantly, if you have not seen any of my sessions, I use a wheelchair. Using a wheelchair is relevant to my talk, and I tend to make wheelchair jokes. In the past, I have forgotten to disclose this information on Zoom, and people have been horrified. I am legit, so if I make a wheelchair joke or pun, you are allowed to laugh as that is the point of it.
I have osteogenesis imperfecta, also known as brittle bone disease. I had more fractures as a kid than as an adult, but it is something I have been dealing with my whole life.
I am excited about this presentation because I love to travel, which is one of my most meaningful occupations. I have worked with many clients and other people with disabilities who use wheelchairs and love to travel. One of the most frequent questions I hear is, "How do you travel in a wheelchair?" People are often impressed that I travel. I roll my eyes, thinking, "It is only a wheelchair. I do not even have to get up to travel."
These are pictures of me on my different travels in Figure 1.

Figure 1. Author on her different travels.
I have been to six of the seven continents. I have not been to Antarctica and am not sure I want to do that as I do not think it is ADA compliant. The first picture is the Great Wall of China. The second picture was taken in Australia when I held a koala in a kangaroo sanctuary. The Eiffel Tower is the third, and the fourth is in Ghana, Africa, where I did a talk. The last picture is of ancient ruins in Peru. I show these pictures to show what people in wheelchairs can do.
Disclaimer
Information, materials, and/or technical assistance are intended solely as informational guidance and are neither the determination of legal rights or responsibilities under the ADA nor binding on any agency.
This session is intended to bring awareness to the laws that exist to protect people with disabilities and offer knowledge about the resources available to you to obtain specific legal advice or interpretations of the law.
In short: I'm not a lawyer and not responsible for legal interpretation or use of this information. I just love the ADA!
As a disclaimer, all the information I will share is not legal advice. We are going to talk a lot about the ADA and other laws. Some of you might have been in my other presentation on the ADA. We are not going to go into that much detail today, but there are some things that I will share as it pertains to traveling in a wheelchair. Do not hold it against me if the laws are changed between now and when you or the client travels.
Introduction
My whole objective is that you will understand more about the federal laws. People find them so dull, but they are empowering for clients and you. Make sure you know what a client can expect, how their needs will be met, and areas to plan for before travel. There is a lot of thinking and planning ahead. Lastly, I want to give you at least three practical solutions for traveling in a wheelchair.
Full disclosure, I sent this PowerPoint to a PT friend of mine. She looked at the PowerPoint and said, "This is very overwhelming. If I were in a wheelchair, I would not want to travel." My response was, "You missed the point of my presentation then." So I hope you will see this as an opportunity to learn some things. We all work with various clients with varying abilities and disabilities. Some have complete sensation and mobility, while others do not. I hope this PowerPoint will serve as a resource and a guide for you to look back to later.
5 Things to Think About
Getting There: If you are going to fly, how long will the flight be? How will you get from airport to destination? How will you carry your luggage?
Staying There: What kind of accessibility accommodations do you need at your hotel/rental location? Is the hotel shuttle accessible?
Getting Around There: Will you need transportation? If so, how will you get around? Rent a car? Public transportation? What is available at the destination? (Ex: Are taxis accessible…how much does that cost?)
Doing Things There: What do you want to see? Is the place accessible? Do you need tickets or advance planning?
Not Getting Stuck There: What are some potential issues I might face? What if my wheelchair gets damaged?
I broke this talk down into five stages. I tried to think locally and internationally, but there are many more laws in the US than in other places. How are you going to get to your destination? You may plan a vacation to New York or Paris. Are you going to fly? If it is Paris, you will likely fly, but maybe you can take a boat or a cruise.
Next, where are you going to stay, and how are you going to get around? If you are in the middle of Rome, how will you get from the Colosseum to Forum? Can you get into the Eiffel Tower or the Louvre? You also do not want to get stuck, especially somewhere inaccessible. Before we go over these five areas, you need to know your rights.
First...Know Your Rights!
Air Carrier Access Act (1986): Airports (airplanes, check-in process, booking, boarding, luggage, deplaning, wheelchair accommodations, seating accommodations, loading and stowing, etc.)
ADA Title II (1990): Public entities (parks, museums, public transportation)
ADA Title III (1990): Private entities (hotels, pools, rental cars, event tickets, stadiums, concert halls, taxis, etc.)
These laws are so important. I have a disability and used crutches from fifth grade through OT school. While in grad school, I broke my hip and used my wheelchair full-time. I can still use my crutches but am safer in my wheelchair. I can get around more easily in my wheelchair as I have a cup holder and can carry my backpack.
I started using my wheelchair when I was living in California. When I moved to North Carolina five years ago to take the faculty position at UNC, things were inaccessible, and it had a significant impact on my quality of life. I have become incredibly passionate about knowing the ADA laws. There is an entire law to protect people with disabilities to ensure they can travel safely. I thought people let me board early because I am awesome, but it is a federal right. When traveling with my friends, I may not need to think about details as much, but if I am traveling alone, I might need a little more help. And the law says that airlines and airports must provide me with that help. Knowing this information helps me advocate for my rights and what I can expect. I encourage all of you to know about these laws so that you can empower your clients.
If you want to learn even more in-depth about these laws, I have another presentation on OccupationalTherapy.com. These laws apply to hotels, restaurants, public transportation, etc. I cannot think of a profession better suited and more appropriate to talk about these laws than OTs. We work with clients who want to engage in meaningful occupations in the community.
1. Getting There
THINGS TO CONSIDER

How will you carry your luggage?
How will you get around the airport?
Can you transfer independently from your wheelchair to the seat on the plane? If you need assistance, do you need one or two people to help you transfer?
How long can you go without needing to go to the bathroom?
Can you weight shift on the plane independently?
Do you need to take any medication while you are traveling?
If you have a long day of traveling ahead of you, will you need to charge your wheelchair?
You or your client decide to go somewhere and may have a major injury, are post-stroke, or have a high-level spinal cord injury. They may say, "I'm never going to get to New York... (Paris, or fill in the blank)." I love New York as it is my home city, especially the Yankees, but it is one of the least accessible places. I also was in Paris a few years ago. In both of these places, I have had to use task analysis. You must consider leaving your home, getting to the airport if needed, and getting to your destination. How are you going to carry your luggage and get around the airport? Can you independently transfer if you are taking a flight? Can you get on the plane on your own?
How long can you go without needing to go to the bathroom? This can be a huge problem, especially if someone is incontinent or on a bowel and bladder routine. Can you do your weight shift on a plane independently? If you are going to be on an eight-hour flight, you will need to shift your weight.
Do you take any medications? And if so, do you need to eat when you take your medications?
Do you need to charge your wheelchair? I have been stuck in an airport overnight more than once. I use a manual chair, but I have power adaption with it. I do not travel without making sure the power charger for my wheelchair attachment is in my backpack, just in case.
Air Carrier Access Act
Here is just a link to the Air Carrier Access Act. You can also Google Part 382 - Non-discrimination on the Basis of Disability in Air Travel. This act was passed before the ADA, and people with disabilities had rights on an airplane before they had rights to go to the bathroom or a restaurant. Hotels, restaurants, and public transportation may not have been accessible in 1988, but your plane and the airport were. The Air Carrier Access Act covers any flights in the US and any flight that starts in the US and goes internationally. So if it starts in New York and goes to London, that is covered. If the flight starts in London and flies to New York, it is also protected by the Air Carrier Access Act because it is going to the US.
The Air Carrier Access Act is a law of the United States of America. The rights and protections outlined here do not apply to all flights in the world. The law applies only to the following flights:

Any flight departing from an airport in the United States, regardless of carrier
Any flight arriving to an airport in the United States, regardless of carrier
Any flight operated by an air carrier registered in the United States of America – this includes flights between two international destinations. For example, a Delta Airlines flight between Hong Kong and Singapore would be subject to the ACAA because Delta Airlines is a US-flagged carrier.
And it also covers any American-based airlines like United, American Airlines, and Delta, even if they are going from Hong Kong to Sydney, Australia. If they are a US air carrier, they have to follow the Air Carrier Access Act. I say this because I try to get an American-based airline when I fly, even if I go internationally. I also know that I am going to get to board early. I will not get all of these other rights on Air France if I fly from one European city to another.
Airlines are also required to provide passengers with disabilities many types of assistance, including wheelchair or other guided assistance to board, deplane, or connect to another flight; seating accommodation assistance that meets passengers' disability-related needs; and assistance with the loading and stowing of assistive devices.
Assisting you from the terminal entrance (or vehicle drop-off point) to the gate location where your flight is departing, including the security checkpoint, and onto the aircraft to your seat; and
Assisting you from your aircraft seat on an arriving flight through the airport to the gate location of your connecting flight (if you have a connection); and
Assisting you from the gate location of your connecting flight to your seat on the aircraft; and
Assisting you from your aircraft seat on an arriving flight through the airport to the baggage claim area, terminal entrance, or vehicle pick-up location.
They are required to provide people with disabilities assistance with everything from getting into the airport, getting on the plane, getting your bag, and leaving the airport. This service is from curb to curb of your destination. Other supported activities include getting around the airport, moving your luggage, getting on the train and transferring, assisting from one terminal to another if you have a layover, getting you through security, and helping you get to the bathroom. They do not assist in the bathroom but get you to the entrance.
The EU also has a set of Disability Travel rights for passengers that can be found at:
The European Union does not have the Air Carrier Access Act but has its own disability travel rights. So if you have a client going to Europe, they might want to look into these.
KNOW BEFORE YOU GO

382.19: Carriers must not refuse to provide transportation to a passenger with a disability on the basis of his or her disability unless there is a significant safety issue
382.23: Cannot require a passenger with a disability to have a medical certificate as a condition for being provided transportation unless O2 or a ventilator is needed.
382.25: Don't need to give advance notice (unless you need a ventilator or O2).
382.27: Can travel alone unless a passenger has major physical, cognitive, visual, AND hearing limitations (that would prevent crew from communicating in an emergency).
382.31: Airlines can't charge more for moving a seat to a "premium" (i.e., bulkhead if required), charge for a ground attendant to push you, etc.
No one has to have a letter saying that they have a disability. If you are on oxygen or a ventilator, you are allowed to travel, but it is essential to talk through this with the airline company ahead of time as there may be some logistics involved. You do not need to give advanced notice unless you are on oxygen or have a ventilator. I can just show up in my wheelchair at the gate. So if you have a last-minute flight or an emergency or work, you can show up at the airport, and they still have to accommodate you, which is excellent. If you have to get moved to a premium seat, you cannot get charged more for that, especially like the bulkhead, which is easier for transfers for those in wheelchairs. My tip is that I wait until I get to the airport. I pick a seat in the economy in the back, and they often move me closer for free.
AT THE AIRPORT

382.51 (just a few pertinent items…there are more!)

Airport facilities must be ADA compliant (Title III).
Accessible route between the gate and the area from which aircraft are boarded (e.g., the tarmac in a situation in which level-entry boarding is not available).
Must provide animal relief areas for service animals

382.53 Provide information to people with visual or auditory disabilities
382.55 Everyone needs to go through security, and your mobility device can be checked.
382.57 25% of automated (self-check-in) kiosks must be accessible (and people with disabilities have priority to them), but if you need help, they have to help you.
Airport facilities must be ADA compliant, including bathrooms, gates, door widths, counter heights, and self-check-in kiosks. Twenty-five percent of these areas have to be accessible. This also applies to people with visual and auditory disabilities.
ON THE PLANE

382.61 – Moveable armrests
382.63 – Bathrooms are only required on planes with more than 1 aisle
382.65 – Onboard aisle chairs

Carriers must equip aircraft that have more than 60 passenger seats and that have an accessible lavatory
Often need to be requested if there are not two aisles

382.72/382.75 - Service animals must be allowed, but there are some rules.
382.81/.382.85/382.87 – Seating accommodations. We get the bulkhead if we need it!
Getting on the plane is one of the most challenging parts. I have traveled extensively, but flying is the most stressful part of a trip for me as not every gate agent or flight crew knows about all the laws. Figure 2 shows an aisle chair.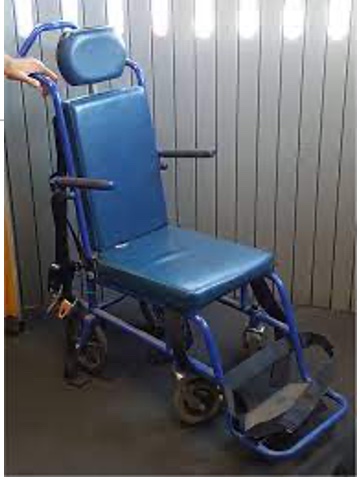 Figure 2. Example of an aisle chair.
I can walk with my crutches for short distances, but I prefer the aisle chair because, as one with brittle bone disease, I do not want passengers knocking into me. And if I am in the aisle chair, they will board me first, and I will get the extra time I need. They transfer you at the door of the plane onto an aisle chair. They roll you back onto the plane and usually place you in the bulkhead.
Most every row has an adjustable armrest that is needed for transfers. You can do a sliding transfer without a removable armrest, but that will be incredibly challenging. You must assess if your client needs to bring a transfer board. If you cannot transfer yourself, they will have two attendants, one in the front and one in the back of the aisle chair, to help transfer you to your seat.
Service animals must be allowed, but there are some rules.
Lastly, we get the bulkhead if we need it. I have a shirt that says, "I'm just in it for the parking." And I wear that when I fly because there are a lot of perks of having a disability, and many of them come when I fly.
PREBOARDING

382.93 - Must offer pre-boarding to passengers with a disability who self-identify at the gate as needing additional time or assistance to board, stow accessibility equipment, or be seated.
They clarified the law in 2013: https://www.transportation.gov/sites/dot.gov/files/docs/Preboarding Notice Final_0.pdf

You have to identify that you need pre-boarding at the gate
Get to board before EVERYONE else (elite, first-class, military, kids, etc…the crew can go before you, but that's it!)
Pre-boarding means: Enough time and space to board, stow accessibility equipment, or be seated safely
I take a screenshot of pre-boarding rule 382.93 because this is the area where I end up having the most issues. Fights must offer pre-boarding to passengers with a disability before first-class passengers and children if they are not flying alone and have to be walked on the plane. "Okay, fine. Let the seven-year-old flying alone go before me, but that's it."
There was a clarification of this law in 2013 saying that you must identify why you need to pre-board. Now because of so many flights, the rest of the plane may be coming behind me. I tell the gate agents that I need extra time as I do not want to get knocked over due to my brittle bone disease. "I need a five-minute head start." You need enough time and space to store your accessibility equipment and luggage and to be seated safely. By law, no one else is allowed on the plane until people with disabilities are in their seat and their equipment and bags are stored. However, this is one rule that does not get followed all the time.
DEBOARDING

382.125 – Reuniting with mobility devices at destination

(C) You must provide for the checking and timely return of passengers' wheelchairs, other mobility aids, and other assistive devices as close as possible to the door of the aircraft so that passengers may use their own equipment to the extent possible, except
(D) In order to achieve the timely return of wheelchairs, you must ensure that passengers' wheelchairs, other mobility aids, and other assistive devices are among the first items retrieved from the baggage compartment.
I take a picture of this as well. This section says, "You must provide someone's wheelchair for them at the door of the plane in a timely fashion." Here is an example of using this section in real-time when flying home from Paris three years ago. At the JFK airport, the staff refused to give me my wheelchair. They said, "You must go through customs to get it." I informed them that, per the law, they needed to bring it to the plane's door. The Norwegian flight crew waited 45 minutes while the JFK staff were arguing with me that my wheelchair did not need to come to the door. The airport chair was unsafe for me because there were no seat belts, and my legs did not reach the floor." I waited by the door until they finally brought my chair.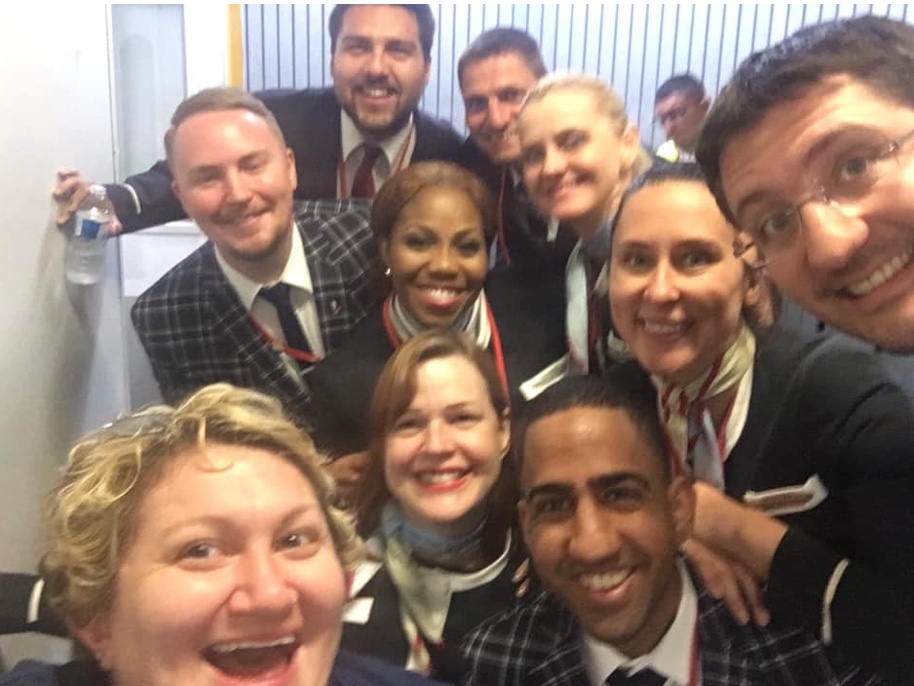 Figure 3. The author with the Norwegian Aircrew at JFK.
Things to Consider
GOING TO THE BATHROOM

Planning your bowel and bladder routine or adjusting it a few days/weeks before to prepare to fly.
Guys have been known to urinate in plastic bottles in their seats (with discretion). Ladies have a harder time. Diapers?
Keep food and liquids to a minimum…start the day before (as medically able to)
Practice ahead of time. How long can you (not) go? Do you need to plan a layover?
Do you need to request an onboard aisle chair?
Going to the bathroom on a plane is probably the number one question. I prefer to be in the first few rows or the last few rows to use the bathroom as it is not always feasible or safe for me to walk long distances. Planes with only one aisle are not federally required to have an accessible bathroom, but those with two are. And by wheelchair accessible, they mean using the aisle chair.
Many times, people with disabilities have to hold it, so they must review their bowel and bladder routine ahead of time. You can practice at home to see how long you can go without going to the bathroom. The disability community has been advocating for change through congress about these issues. Men have been known to urinate in plastic bottles with discretion. It is more challenging for women. Many people will fast the day before. For example, if their flight is on a Thursday, they will eat a lot on Tuesday or Wednesday. Then, they do not have to go to the bathroom or have a bowel movement on Thursday, which is one of the most challenging parts.
One of the areas where the Air Carriers Access Act falls short is bathrooms on planes. You can ask to have an aisle chair put on the plane to get to the bathroom.
LAYOVERS

Do you need to intentionally plan a layover for a bowel and bladder break? Or weight shift?
If you have a layover, plan for an extra 30 minutes to get off the first flight, plus getting to the new gate, PLUS being early to pre-board. It's VERY hard to have a layover under 60 minutes when using a wheelchair (Last one off first flight and first one on the second flight). Ninety minutes is the closest I book.
I plan my flights based on my layover time. I cannot make a 45-minute layover because I'm often the last one off the plane and must travel across the airport to get to the next gate. I do not usually take a layover of less than an hour and a half. And if you have a bowel and bladder issue and do not think you can hold it, will you need to have a flight with multiple layovers? Plan your trip stops ahead so you can follow your bowel and bladder routine, complete a weight shift or do whatever you need.
Carrying your luggage

Duffel Bag:

Pro – can put on your lap and be hands-free (strap across your back), not as bulky
Con – items can get damaged, can change center of gravity on wheelchair, harder to see terrain.

Rolling Suitcase

Pro – Can have more space, not as big of a concern of imbalanced chair
Con – much harder to push unless you have a power chair or power assist, can be bulky, can get stuck (ex: elevator door crack)

Either way: Practice ahead of time! Go to the store and try them both out!
For luggage, I recommend using a duffel bag as that is what I use most of the time. I put the strap over me and place the duffel bag on my lap. Then, I can push my wheelchair. It is too hard to move regular rolling luggage when you need both hands to push your wheelchair, especially if you have a manual wheelchair. However, there are a few benefits to rolling luggage. You do not have to tilt your wheelchair due to the increased weight on the front of your wheelchair. You just want to think about what will be best for your client.
If I am traveling with friends, sometimes I'll use rolling luggage if we're all going to be putting our luggage together. But if I'm alone, I always take a duffel bag because that's the best way to travel.
Getting There: Tips, Tricks, and Tools!
Book early!
Get to the airport early.

Security will take longer! Sometimes it can take 30 minutes.
Some airports let you cut the security line and go right to the front…ask!
If you are running late…ask for an airport porter…they will often cut the lines, but at the very least, the airline knows you are there.

At security, take off as many things from your wheelchair as possible to save time.
Go to the gate and check to let the gate agent know you are there and that you need to pre-board...if you don't tell them, you aren't guaranteed to check-in! Also, confirm whatever assistance you need (aisle chair, etc.). Don't assume they know!
Make sure your wheelchair gets a luggage tag and save the confirmation stub!
BE SPECIFIC about what you need. Tell the gate attendant, "I need a 5-minute head start to safely board."
Tell the gate attendant where you are sitting and make sure your seat will work for you. Often, they will move you to the bulkhead when they see you…but keep in mind you won't have access to your bag the whole flight if you sit there.
Carry your wheelchair power cord in your carry-on in the event you are delayed or have an issue! ​
Have pre-written instructions about how to fold, move, or operate your chair that you can clip or tape on your wheelchair.
Take everything off your wheelchair (keys? battery) and bring them and your seat cushion with you on the plane. Bring a plastic or reusable bag to throw items from your wheelchair in after you transfer to the aisle chair.
Take screenshots on your phone or print out laws that are important to you (ex: pre-boarding and deplaning). Do NOT assume all airport personnel know the laws. State your need and the law.
If you have O2 or other medical equipment, call the airline ahead and talk to someone to verify you have the correct equipment, paperwork, and documents, as needed.
If you have a layover, tell the gate agent you want your wheelchair at your layover destination, so it does not accidentally get booked through to your final destination.
Set a timer(s) to weight shift… you'll be out of your routine!
If you are in the bulkhead, consider having a small bag you can grab to have the things you want AHEAD of time before your bag gets put in the overhead bin (phone, headphones, book, chapstick, etc.).
The night before or morning of take timestamped pictures of your chair as proof of the condition your chair was in before you left it at the plane door!
Here are some more tips, tricks, and tools for getting there. Book early and get to the airport early as security will take longer. I usually get the pat-down because I cannot go through the metal detector. They do not usually ask me to get out of my wheelchair, but they have a few times and have a right to do that. Plan on security taking at least 10 minutes, but it's taken me up to half an hour. You want to also that you consistently tell people what you need. "I need to board five minutes early." "I need my wheelchair at the gate during my layover." "I need someone to help me get my bag at baggage claim."
Make sure your wheelchair gets a luggage tag and is at the plane's door. Otherwise, you do not know where it is going to go. Make sure you carry wheelchair power cords or other things you need. I use an empty bag to put items from my wheelchair in before getting into the aisle chair so I can get on the plane as quickly as possible. I also have a small bag to keep my headphones, book, and other necessities, as they usually put my bag up overhead.
2. Staying There
Hotels (ADA Title III)
A hotel's size dictates the number and types of accessible guest rooms that are required. The bigger the hotel, the more likely you'll find an ADA room.

224.2 and 224.4 of the 2010 ADA Standards
Hotels fall under Title III of the ADA.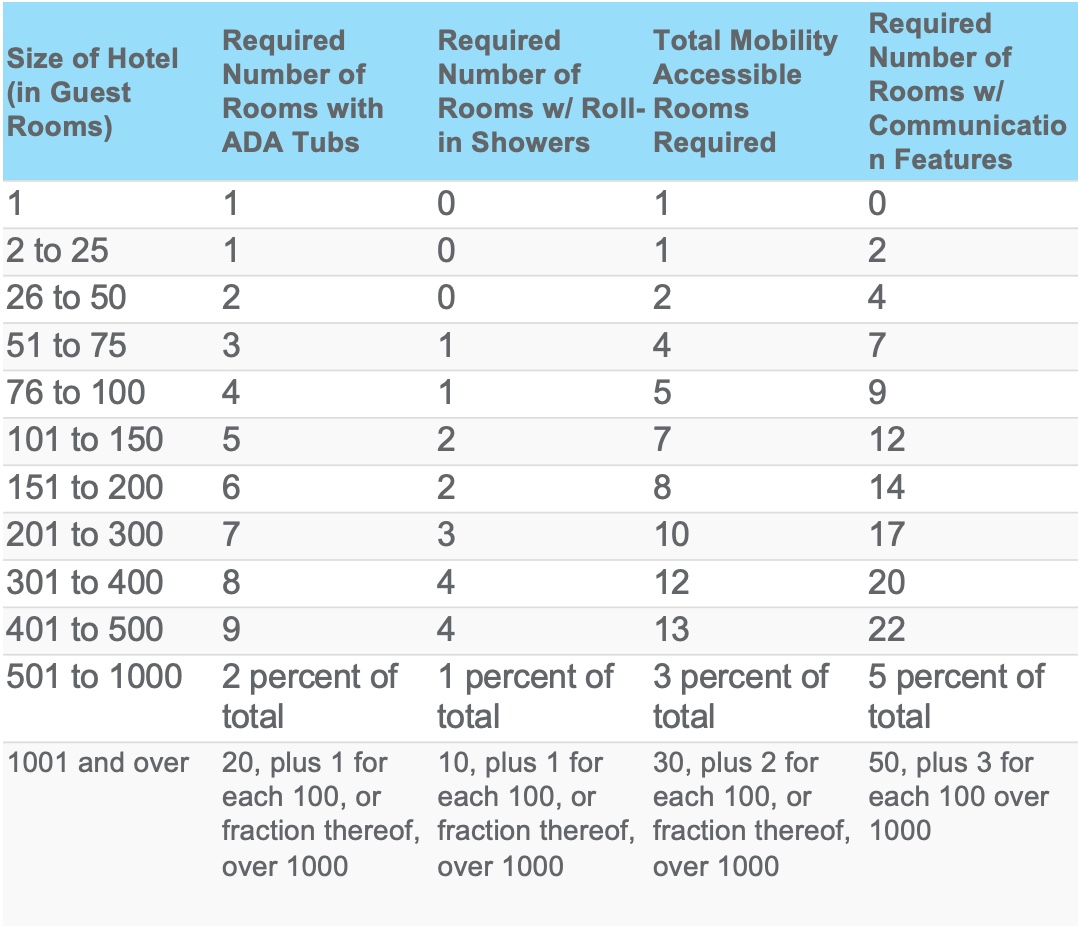 Figure 4. ADA guidelines for hotels.
Most hotels have ADA-compliant rooms, which is usually not a huge issue for me, but not all ADA rooms are on the first floor. And some hotels only have one elevator. Do you want to be on the third floor of a hotel with only one elevator? You are taking a risk that the elevator might break, but some people like to be higher up for safety reasons. Again, it is a matter of thinking ahead and knowing what is important to you or your client.
Depending upon capacity, each hotel has to have a certain number of ADA-accessible rooms. Larger hotels will have more options, whereas a smaller hotel may only have one.
No standard for bed height is mandated or prescribed by the ADA. Section 504 of the Rehabilitation Act suggests a bed height of 17 to 19 inches in accessible jail/prison cells, but that recommendation does not apply to hotels.
In hotels with only one bed, a clear space of at least 30 inches wide must exist on both sides of the bed to accommodate the parallel positioning of a wheelchair for side transfers. In hotels with two beds, a clear space of at least 30 inches is required between the beds but is not required on both sides of each bed.

TIPS!

Call ahead and ask about bed height
Bring transfer board if needed
Practice at home
One of the big pitfalls of the ADA is there is no standard bed height, and beds are getting higher and higher. I think, "Where's the trampoline to get up on here?"
Figure 5. A high hotel bed.
These high bed heights make it challenging for people to transfer into a bed. You can call ahead and ask, "How high is your bed? Can you send me pictures?" You can then practice the transfer. A rollaway bed lower to the ground may be a better option.
Additionally, the clear space should be 30 inches wide around the bed; however, this will only allow the wheelchair to be parallel with the bed. And if someone is used to getting into the bed perpendicular like a standard pivot, that may not be enough space.
Bathrooms in accessible guest rooms must provide enough clear floor space for a wheelchair to turn around – specifically in the form of either a 60″ diameter circle or a "T" turn.
ADA-accessible bathrooms have to have enough floor clearance.
Figure 6. Accessible hotel bathroom. (Bonus feature: you can order room service from the bathroom!)
I'm not going to get into all the ADA bathroom characteristics, but you can see they have grab bars and enough space to move around. Usually, there is either a folding bench or an actual shower chair.
Grab Bar Specifications

Two parallel grab bars are required on the back wall of the tub
A single horizontal grab bar must be affixed to the control wall
A grab bar on the second end wall (opposite the control wall) is only required for bathtubs using the removable in-tub seat

Section 4.20 of original ADA or section 607 of the 2010 standards

Figure 7. Grab bars located in a hotel shower.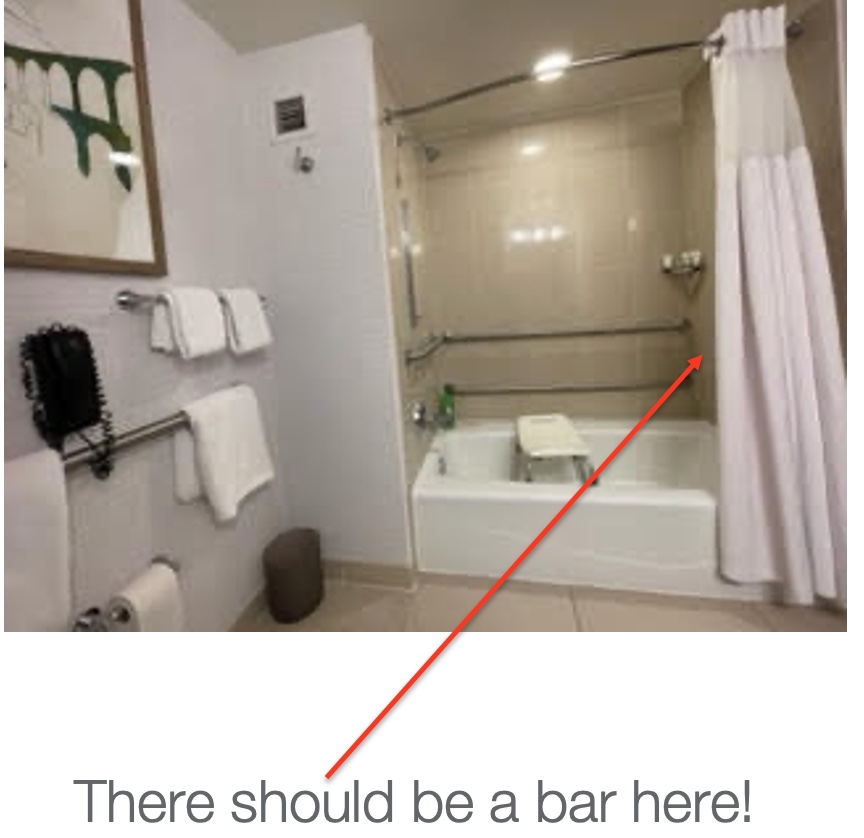 Figure 8. An image shows where a grab bar should go.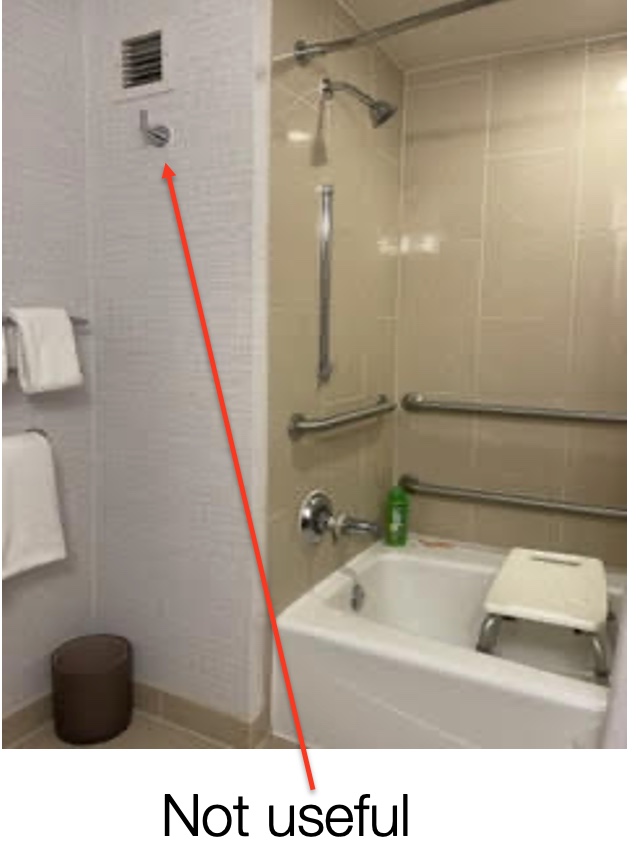 Figure 9. The towel hook is too high.
As you can see, this towel hook is useless to me.
Roll In Shower

Flip down bench
Entry threshold shall not exceed a .5" change in level
Shower benches must be mounted 17" -19" above bathroom finish floor
If the controls are to be located on the wall opposite the seat, they should be placed no more than 15 horizontal inches from the center line of the seat, to the left or to the right.
This is an example of a roll-in shower in Figure 10.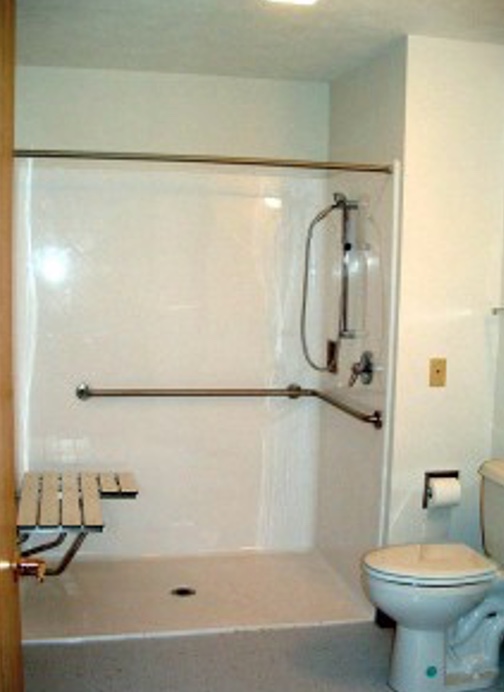 Figure 10. Water controls are too far away.
They usually have a flip-down bench, but many do not have hand controls accessible based on where the client sits. Think about these things ahead of time. You may need to bring a reacher or ask the hotel ahead of time. Figure 11 shows a picture that I took at AOTA this past year.

Figure 11. Not all sinks and mirrors are created equal.
The sink was high, so I had to use a plastic cup to spit. Sometimes I brush my teeth while leaning over the bathtub. In the second picture, you can see my view in the mirror. I like to bring a portable mirror; you can see that in Figure 12.
Figure 12. Portable mirror.
I had to be creative and prop it up on toilet paper. I have also had a tub bench break on me. It is a good idea to double-check the equipment when you get there. Often, they just throw it in the room and then leave. Make sure it is adjusted to your height. You can see I had to make some adjustments to a tub seat in Figure 13.
Figure 13. Adjustable legs of a tub seat.
Staying There: Tips, Tricks, and Tools!
1. Call and ask about bed heights and what kind of bathroom you will have.
2. Think about where the towels are before you get out of the shower! (bring command hooks if you think you'll need them)
3. Call and verify your reservation accommodations
4. Check the shower chair/bench BEFORE you sit on it
5. Bring extension cords…you might not be able to reach outlets…Especially if you have a power wheelchair.
6. Search for photos of the hotel (inside and out) to see if the entrance is accessible…Especially when traveling internationally.
7. If needed, use the bathtub as a sink.
8. Bring a mirror (don't assume you'll be able to see the one in the bathroom).
9. Consider how many elevators there are in the building and what you would do if one elevator goes out of service.
10. Does the hotel have a pool lift?
11. Does the hotel offer a shuttle from the airport, and if so, is it wheelchair accessible? It is illegal if they offer a shuttle but it is not accessible…as them to pay for your ride to the hotel!
12. When traveling internationally, big US hotel brands are more likely to be accessible.
13. Call and talk directly to the hotel location to confirm!
14. Ask the hotel to send pictures of room layouts and measure door widths.
15. If driving to your destination, bring your own shower chair/bench.
16. Check everything before you settle in…including the height of the thermostat! Don't be afraid to switch rooms or ask to have something adjusted for you!
Again, when you make the hotel reservation, you can ask for a wheelchair-accessible room and have them determine the bed height and bathroom set-up. The hotel cannot charge you more for a wheelchair-accessible room of the same base rate. If it is a standard room, it is a standard room and should be the same price. When you order the hotel online, I like to call immediately after and ensure, "Hey, I just made this reservation online. Can you confirm or send him an email about my wheelchair-accessible room accommodation request." And then, two or three days before the stay, I call again to verify the information as it is not uncommon for hotels to make changes at the last minute.
You may also want to bring extension cords, especially for power mobility devices, as the plugs may be out of reach or behind the bed. You can also search for photos online or see if they have reviews anywhere, especially if you are going somewhere internationally. I do not speak French other than "bonjour" and "crepe," so I looked online for pictures. One hotel said they were accessible, but when I looked it up on Google, there were three steps to get into the building. Does the pool have a pool lift if you want to go into the pool? Many newer hotels will, but not all of them do.
Does the hotel offer shuttle to and from the airport? If it does, the shuttle has to be accessible, and it will probably not be. Talk to the hotel about that ahead of time, and maybe they will reimburse you for taking an Uber or taxi or have another way to transport you. This is an area where you are going to have to advocate for yourself. Show them the law and say, "You must provide this service if you're doing that for people without disabilities." You can tweet or report it to their corporate headquarters if they do not accommodate. While there is no accessibility standard for US hotels like there is for air travel, I have had more success traveling internationally on US brands because they tend to be more accessible.
The big takeaway is always to confirm. If I drive somewhere, I will BYOSB (bring your shower bench) as it is much easier.
3. Getting Around There
I have a love-hate relationship with public transportation. I love it, but it does not always meet my needs under Title III of the ADA,
Rental Cars (ADA Title III)
Rental car companies are considered public accommodations under the Americans with Disabilities Act (ADA) under Title III.
Rental car companies can provide a wide array of adaptive driving services at no extra charge. These include hand controls, left foot accelerators, spinner knobs, and pedal extenders.
Companies generally need a few days' notice.
Upon arrival at airports, shuttle buses are routinely (and should be!) accessible for wheelchairs and luggage storage. But always call to double-check!
Get to know which companies offer wheelchair-accessible vehicles. Most major rental car companies such as Alamo, Enterprise, and National do not offer lift-equipped cars or vans for rental. Budget does (historically).
In many major cities, specialty companies such as Accessible Vans of America, Wheelchair Getaways, and Wheelers Accessible Van Rentals rent vehicles equipped with wheelchair lifts and other devices.
Plan ahead for what you might need…pillows? Cellphone holder? Do you keep balance using an armrest? Transfer board?
Verify by phone…during reservation and then 3-4 days before. ALWAYS verify!
For last resort, have a backup plan! Uber, taxi, etc.
Rental car companies have to provide wheelchair-accessible vehicles with hand controls for free. I drive with hand controls, so I let them know 72 hours in advance. I also want the bar on the left-hand side and the spinner knob at one o'clock. They have to make these accommodations for no additional charge. If you rent the cheapest car available and only the premier cars have the hand controls, they have to give you the premier vehicle at a more affordable price. This is a massive bonus for people who travel. Some companies are better than others. Some of them offer wheelchair-accessible vans and trucks. Historically, Budget tends to be wheelchair-van friendly. You can also reach out to a company like MobilityWorks that customize vans to see if they rent any cars in the area. They usually have a major car adaptation company in most major cities.
As I am shorter in stature, I sit on pillows while driving. If I am going to rent a car, that means I need to bring pillows with me to sit on. Lately, I have gotten smarter and brought pillow cases that I stuff with clothes from my luggage. I also bring my cell phone holder and my handicap pass. I also like to use an armrest when driving to keep me stable, so I always ensure the vehicle I rent has one.
Public Transportation
Do research to determine if buses/rails/metros are accessible. Note: some stops might be, and some stops might not be (i.e., NYC). Look into this BEFORE booking your hotel.
Consider if you want to stay in proximity to an accessible transit stop.
Public transportation in and of itself can be very challenging. In some places like Washington DC, the Metro is amazing, and I love Washington DC for that reason. New York is not accessible. Only about ten stops on the NY subway line are accessible. Thus, I have a love-hate relationship with New York. I go for the bagels, pizza, and the Yankees, which is about it.
Think about where you will stay and what public transportation may be available. Stay within a central location to the places you want to go if public transportation is not very accessible. For example, I plan to attend the World Federation of Occupational Therapy (WFOT) conference in Paris again this year. Buses are not wheelchair accessible, so I got a hotel right by the expo center. I plan on staying there and found one train stop that looks accessible within a mile. I am probably going to stay for two days afterward. If I want to go back to the Louvre or the Eiffel Tower, I will not be able to take public transportation to get to those places, so I am planning on moving hotels to be closer. I will take an Uber and go to a different hotel closer to where I want to go.
I am planning and figuring out what public transportation is available, whether it is accessible or not, and then planning my trip. These details are so important.
Paratransit
Every city that offers public transportation (buses, light rails/metro, etc.) MUST offer accessible transportation for people with disabilities.
To use public transit in another city, you must apply for paratransit in your city and then have your city verify your eligibility ahead of time with your destination city.
Note: As a visitor, you may be limited to a certain number of rides per year in your destination city. Call ahead to ask/verify this!
I can talk about paratransit for hours. I used to work in a paratransit company in California to ensure it was compliant. Every city in the US that offers public transportation has to offer paratransit services. That means they provide transportation that is wheelchair accessible, usually in the form of a car or a wheelchair-accessible van, to people with disabilities and take them door to door. It is not always as timely as public transportation, and it can be no more than twice the price of what public transportation would be. So, if it would be $2 for a trip to go somewhere on the bus, it can only be $4 for public paratransit. I highly recommend you look into paratransit in your area for your clients because it is a fantastic, federally mandated, and local service. Paratransit is not just for doctor's appointments but can go anywhere like a bowling alley, restaurant, friend's house, et cetera. It is an amazing service for people who want to engage in meaningful occupations, and clients need to be able to get where they want to go. You have to register for paratransit services in your county or city. Then, if you want to go somewhere like New York, you can also use their paratransit services. There is usually a restriction on how many days or a specific amount of rides.
I use it in Chapel Hill because it is not called "Chapel Flatland." There are some places where I cannot get up the hill and push myself. This qualifies me for paratransit services here in my county. As a result, I can use paratransit services anywhere from Honolulu to Manhattan and anywhere in between.
Getting Around There: Tips, Tricks, and Tools!
Check out public transportation in the city via the city website.
Read reviews about accessibility and call the city if you aren't sure.
Use Google maps to look at sidewalks, paths of travel, and even topography.
Have a backup plan.
Consider where you want your hotel to be located and what form of public transportation you plan to use.
Take weather into account! Is your powerchair able to be out in the rain? Is the accessible transit ½ mile away, and can you get there in bad weather?
In keeping with the weather, if the climate will be warmer, do you need to take into account breaks or places to cool off?
Keep the number for the city department of transportation with you in the event you are stuck at a station with a broken elevator.
Look into whether the city offers a discounted fare to people with disabilities.
Download apps or other forms of transit info before you go to make it easier to know where you are going!
If you use a manual chair, consider getting gloves for your hands to protect your skin. Your hands will likely get beaten up by weather and extra use.
Download maps and plan out the shortest route to destinations to save time and energy.
Check ahead to see if your destination city has special parking privileges for people with a handicapped parking pass! (free parking at meters?)
If you are renting a car bring your handicapped parking pass!...but also think about where you will park at the airport if you drive yourself and don't have your handicapped parking pass.
Check out public transportation in the city by looking it up on the web or calling them. For example, I read that Paris buses were accessible, but when I Googled them, I did not see a lift or a flip-up ramp, so I am not planning on them being accessible. I also like to read reviews. One of the great things about today's blogging world is that people travel and write about it. I read and look at as many pictures as I can. I also like to use Google maps to look at travel paths and even topography before going somewhere.
A backup plan like the Uber app or a taxi number is always good. Also, take weather into account. What are you going to do if it rains? Do you need to carry a poncho to have some protection over your battery or your wheelchair parts? I like to download maps, so I am not stuck worrying about whether I will need the internet to navigate.
Do not forget your handicapped pass. Some cities, like San Francisco, will let you park for free with a pass. Make sure you know the laws in each town as they can change.
4. Doing Things There
Plan ahead…plan ahead…plan ahead!
Think about the major attractions/events you want to go to, and then look into accessibility!
Look into discounts!
How are you going to get there…do you need to take public transit? Rent a car?

For example, you can get to Liberty Island and see many attractions and features, but there is no elevator to the crown. You can email them for more accessibility options!
Plan ahead is my best suggestion if there is something that you want to do, like the Statue of Liberty. You can also look for discounts. I could get into the Louvre for free in Paris because I was in a wheelchair. Usually, I don't particularly appreciate being treated differently, but I took that perk.
How are you going to get there? Again, do you need to take public transit or rent a car? The Statue of Liberty is an excellent example of transportation requirements. You have to take a ferry to Liberty Island, which is accessible. And getting to the bottom base parts are all accessible. However, you cannot get into the crown of the Statue of Liberty because it only has steps. The Statue of Liberty is grandfathered in, meaning they do not have to retrofit the historical monument to make it accessible. Instead, they live stream video from the top of the crown.
I like to email attractions ahead of time and say, "I'm coming in a wheelchair. What can I do?" People are usually super gracious and want to accommodate. Make sure you know what to expect with each location, so you are not let down.
Doing Things There: Tips, Tricks, and Tools!
Plan as much as you can in advance.
If you are planning on doing a lot of events, consider looking into a travel company that provides accessible tours.
Know the laws! Concerts/events CANNOT charge more for a wheelchair-accessible ticket. If there are not any wheelchair-accessible seats in the upper deck (aka: cheapest section), and you have to be in a more expensive section due to accessibility, the venue has to offer the cheapest price to the same % of accessible seats as there are cheap seats. Ex: If 50% of seats are $10 and 50% of seats are $25, and all of the ADA seats are in the $25 section, they MUST offer 50% of the ADA seats at $10 and 50% at $25. Many places do not implement this, so know the law and ask!
Consider how LONG it is going to take to get to a venue, get around the venue, and then get back to your hotel (especially if you use power assist devices!). What do you need with you? Meds? Power cord? Snacks? Water
If you plan to be outside in the heat the majority of the time, consider clothing that will keep you cool but also protect your skin (i.e., knees!) from sunburn, or carry layers in a backpack.
Consider bringing powdered electrolyte packets or cooling towels if you tend to get dehydrated or overheat.
If public transportation is not readily accessible, consider a plan to switch hotels to be more central to the attractions you want to go to.
If you plan to go shopping, consider bringing carabiners or other clips to help carry your bags!
Find out if there are local wheelchair-accessible beach chair rentals or other types of access that you can enjoy!
Do your homework ahead of time. If you are doing a lot of events, you can go through a travel company to see if they have any ideas or thoughts about traveling in a wheelchair.
Another important thing is to know the laws. For example, venues cannot charge more for a wheelchair-accessible seat. And, if half the stadium seats are $10 and the other half are $25, but all the wheelchair seats are in the $25 section, half of the wheelchair seats, even though they are in the expensive section, have to be at the $10 price.
Consider how long it will take you to get around different venues. If you are going to be out all day, you may need to bring a power charger, a backup battery, or snacks? You will want to stay cool, and this determines what you want to take in your backpack.
This information seems obvious, but my biggest fear when traveling is getting stranded without having something I need with me, like a backup charger or a poncho. People might have a more challenging time cooling themselves down if they have a higher spinal cord injury. They may need to bring cooling towels or electrolyte packets to prevent autonomic dysreflexia.
5. Not Getting Stuck There
Drive Assists: Smart Drive vs. Firefly
I use a Firefly, but I think the Smart Drive is as effective.
Figure 14. Smart Drive and Firefly examples.
I use a Firefly which attaches to the front of my wheelchair frame and lifts the front casters. This then turns my wheelchair into a three-wheeled motorcycle, making me look amazing and awesome. Little kids say, "Nice motorcycle," to which I respond, "Thanks, dude," and give them a high five. I am inspiring people around the world with my motorcycle. Still, it also keeps my front casters from getting stuck on curb cuts or uneven sidewalks, as I am always worried about falling out of my chair and injuring myself. The Firefly keeps me protected and prevents tendonitis in my arms. There are pros and cons, and Figures 15 and 16 are more images of each device.
Smart Drive
Pros:

Small
Great for everyday use
Good for someone with reduced UB strength

Cons:

Delayed braking/stopping
Front-forward fall risk
Does not manage difficult terrains well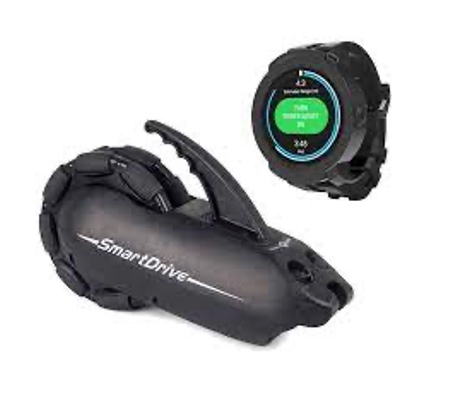 Figure 15. Example of a Smart Drive.
Firefly
Pros:

Better with difficult terrains (grass, etc.)
Less expensive
Attaches and detaches easily
Less likely to fall out of the chair

Cons:

Harder to go through doors
Difficult to assemble
Cumbersome to transport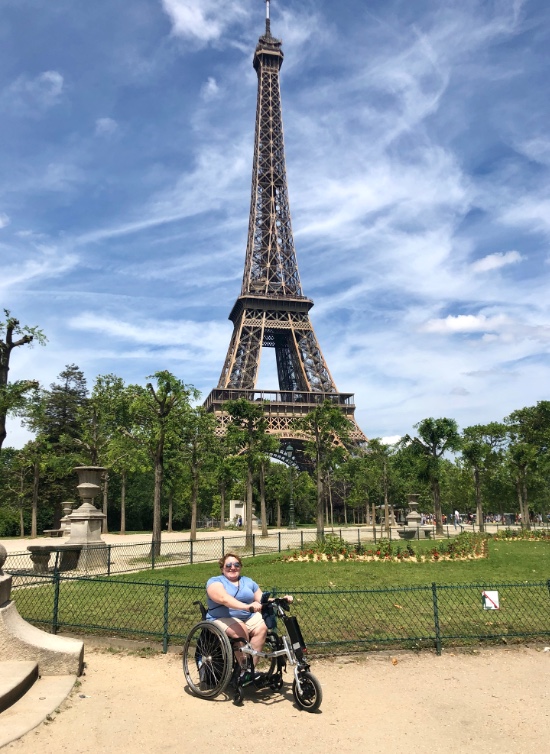 Figure 16. Author in her Firefly in front of the Eiffel Tower.
Not Getting Stuck There: Tips, Tricks, and Tools!
I saw this picture a while ago and loved it because it is so creative.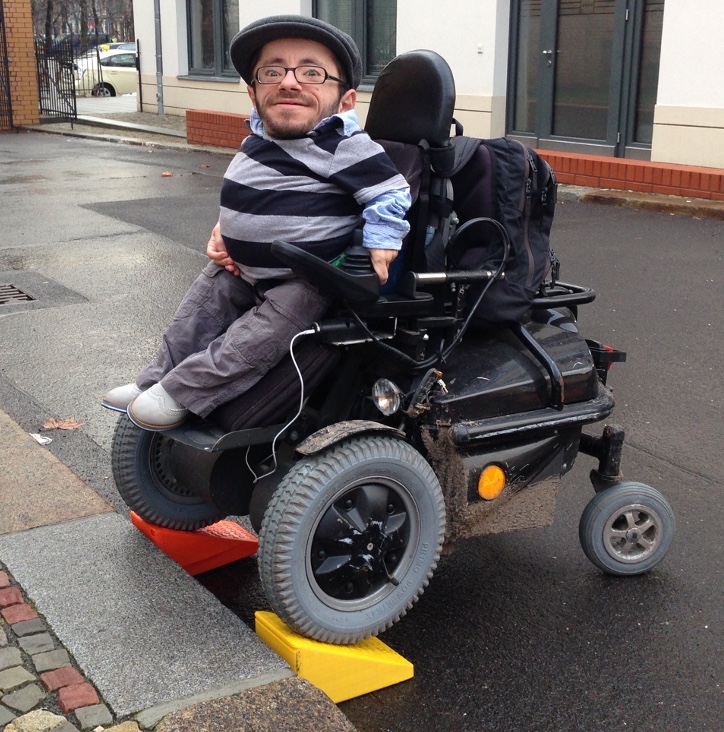 Figure 17. An individual in a power wheelchair using curb blocks.
Like me, this guy appears to have OI and made these blocks to have a curb cut. The only thing that I would add are little loops and tie them together to the exact width of my wheelchair to have an easy set-up. Then with the loops, you could pick them up with a reacher.
Find a number for a wheelchair repair or bike repair shop. Call ahead and talk to them…do they have tires in your size? Specific tools?.
Get tires that are foam inside and not tubes/air.
Bring important tools with you (I always have my hex wrenches and Velcro strap.
Ponchos, garbage bags, and plastic bags can help protect wheelchair cushions, batteries, and you! And they are easy to store/travel with.
Think ahead about bathrooms. Newer buildings will be more likely to have a bathroom you can use. Don't be afraid to ask…and use the bathroom as often as you see one…, especially internationally.
Bring a portable cell phone charger so you can always make sure your phone is charged in the event of an emergency! Take screenshots of important information, so you don't have to worry about internet service to search for help.
Ask your hotel if they know any suggestions or have information about local accessibility or anything that might make your life easier.
Finding the number for a wheelchair or bike repair is imperative in case of breakdown. Additionally, you can get tires with foam versus air, so you do not have to worry about a flat tire. Foam tires make for a bumpier ride, but I like them for travel. It is also essential to bring tools with you. I always have my hex wrenches and a Velcro strap, as I feel like Velcro can fix anything.
As mentioned earlier, you may also want a poncho, garbage bags, to other things to protect your seat cushion. If your cushion gets wet, it will irritate your skin, especially if you are sitting all day. You also do not want the cushion to get moldy.
Bathrooms are another area where it is crucial to plan, especially internationally. I keep talking about Paris, but finding a bathroom, I could use was hard. Anytime I passed a big building or somewhere where there was a bathroom, even if I did not have to go, I went. You had to go downstairs to access many bathrooms, especially in restaurants. In other places, I could not find one, and that impacted how much I drank that day. However, I also did not want to get dehydrated as it was hot.
I always bring a portable cell phone charger, especially when traveling alone. Due to the OI, I want to make sure I can call someone if I get injured or stuck.
These are just some traveling pictures of me that I added that support things that were discussed.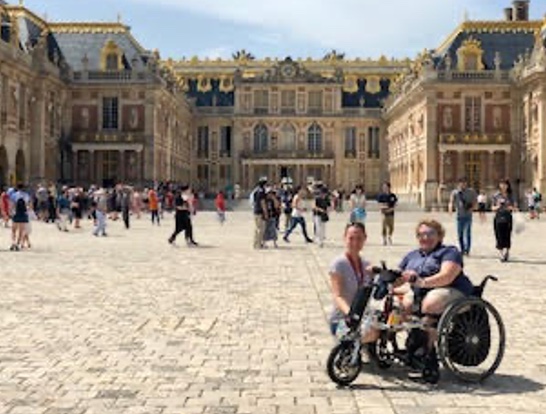 Figure 18. The author is in front of the Palace of Versailles with her cousin.
Figure 19. The author at the Louvre asking someone for directions.
I always ask, "Can you help?" or, "Do you know where the elevator is?" People are always super generous and want to help. I have never had anyone say, "I'm not going to help you." People may not know the answer, but I always ask for help because I want to conserve my energy, battery, and time. If you ever go to the Louvre, ask for directions for the elevator because there is not one main elevator as there are five different floors. It was traumatic, but we made it.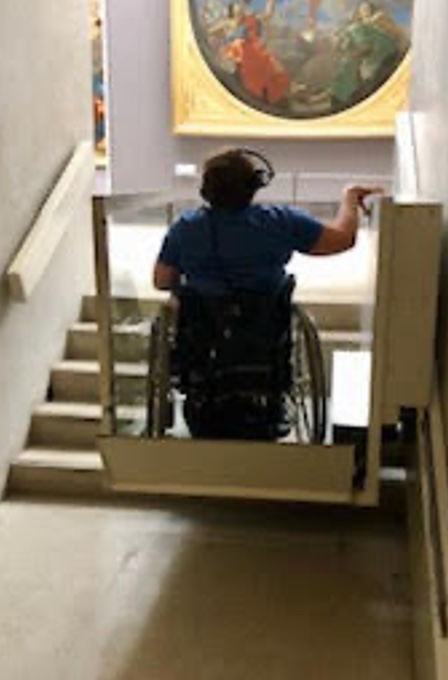 Figure 20. The author taking an elevator lift at the Louvre.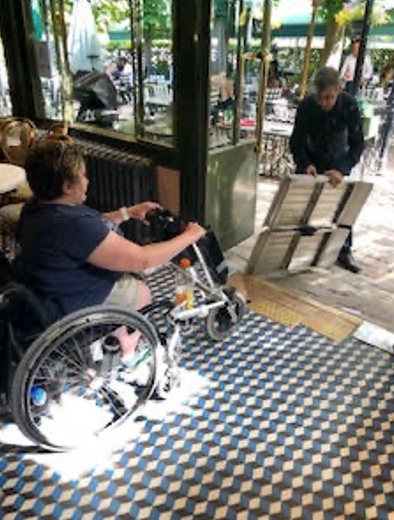 Figure 21. The author using a ramp at a restaurant.
There was another picture there at the top of me at a restaurant. They didn't have a curb cut but a little ramp. So as soon as they saw me, they ran and got their ramp, and they were very excited about it.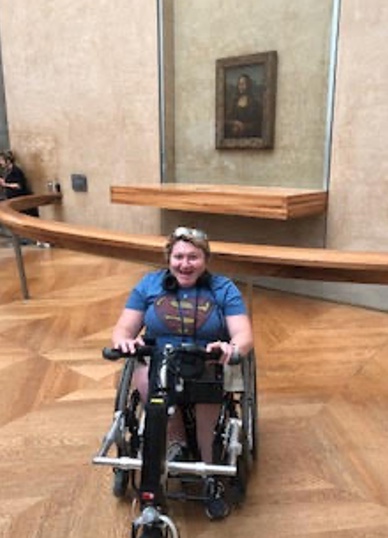 Figure 22. The author in front of the Mona Lisa at the Lourve in Paris.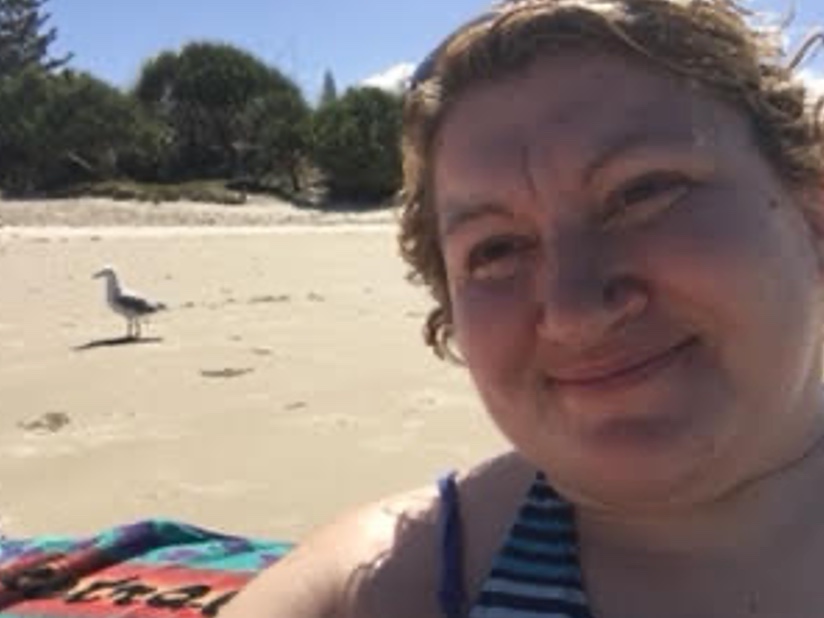 Figure 23. The author is on an Australian beach.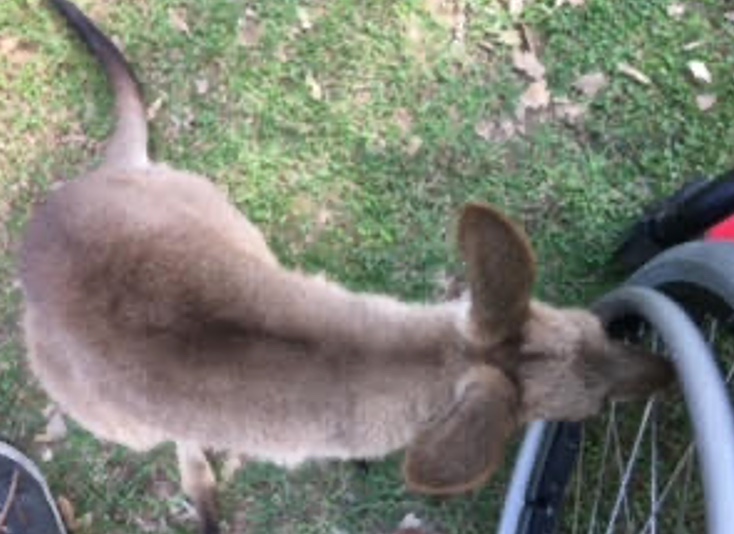 Figure 24. A kangaroo is checking out the author's wheelchair.
I thought that was super cool. And then, I love the last slide, "to think outside of the borders."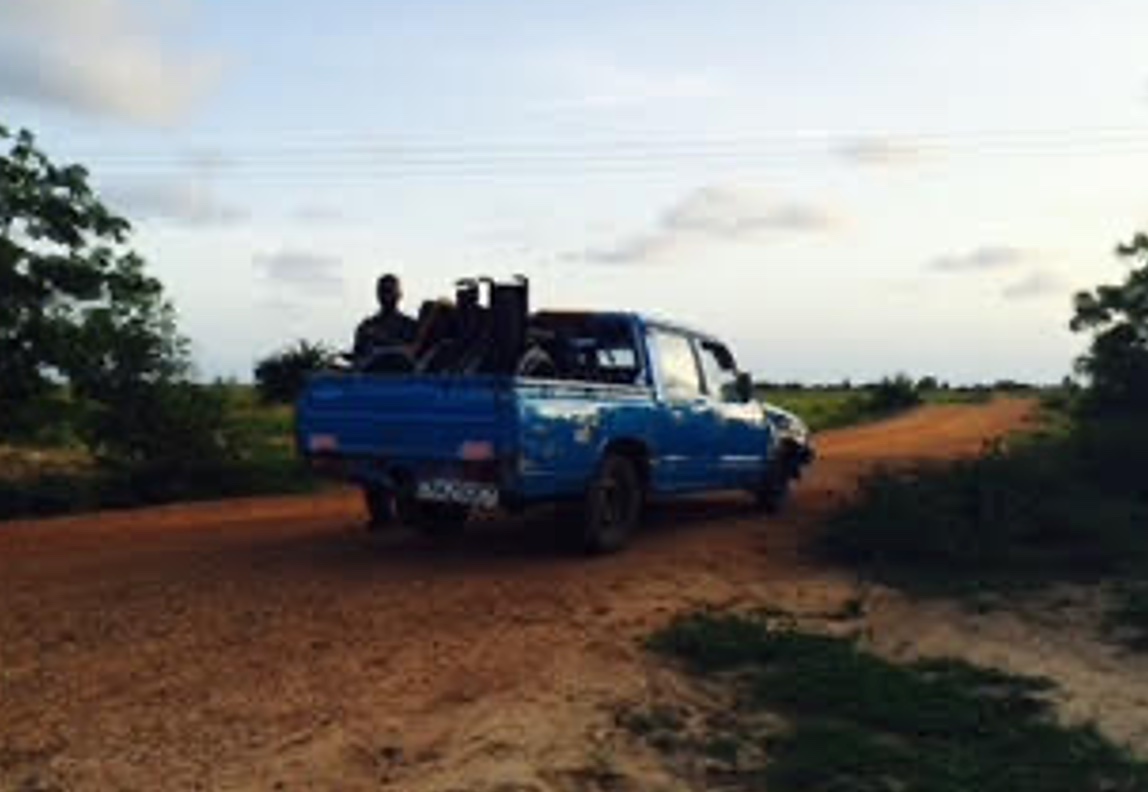 Figure 25. Truck with wheelchairs in the back.
I was trying to come up with a slogan or something that would not be too cheesy. Those are a bunch of wheelchairs in the back of a truck. My wheelchair has been in the back of a truck and strapped to the top of a van. I have been in some interesting predicaments, but I love that I have always been able to figure out a problem wherever I have been. This is one of the most considerable gifts you can give your clients. You can help them be resilient and creative in any situation, whether traveling or not. Perhaps I always bring duct tape and Velcro because I feel like I can fix anything.
Summary
If you have a client who loves to travel or is interested in doing so, it is a matter of thinking ahead. I gave you a lot of information I had to work out on my own, and now it is natural. Flying is the most stressful part because I want to ensure I get on safely and not have people bombarding me on the jetway, which has happened before. They take my wheelchair, and I am left standing with only my crutches with people trying to rush to their seats. Now, I know the laws and am empowered to tell people what I need and ensure my civil rights are met.
Questions and Answers
How do you suggest mitigating some safety risks, like being attacked or robbed, when traveling in a wheelchair alone?
I carry pepper spray on my key chain. There are certain things you have to check in your luggage. I also try to look and ensure that I am staying in the right public places or using Google maps to travel to places where I am going to be with a crowd. I do not want to end up in some back alley because I could not find a curb cut somewhere. You need to be aware of your situation at all times.
I also let friends know where I am staying and give them my flight itineraries. Traveling can also be a concern for someone traveling without a wheelchair. I also put a lock on the zippers of my backpack.
If you are using paratransit services and traveling with another person, can they come on those rides with you?
Usually, you can take another person with you, but they may have to pay. If you have to have a personal care attendant, and this is approved, they get to ride for free. Look into paratransit in your area as it is an incredible opportunity and service for people.
Would it be okay for me to share this handout with my client, who has a spinal cord injury and recently started traveling?
Absolutely. That is the whole point of this. Please do. There are also other bloggers out there like "Curb Free with Cory Lee." I follow him on Facebook. He has muscular atrophy, uses a power chair, and travels worldwide.
For tickets with the airlines or events, do your guests get to sit in the upgraded seat with you?
With the airlines, this is not always the case. For events, like an ADA seat at a sporting event or a concert, you can take a companion with you. An ADA seat is considered one person with a disability, whether you have a wheelchair or need a folding chair and a companion. The ADA law technically considers those two seats as one unit. So take elderly family members to events and hang out with them.
Does a family member of a child in a wheelchair get to board with them?
Absolutely. You get to board with them. I have been able to have a bunch of friends board with me.
Citation
Sorensen, K. (2022). Traveling in a wheelchair: Tips, tricks, and tools to help your clients travel successfully. OccupationalTherapy.com, Article 5510. Available at www.occupationaltherapy.com