Mallory: Jade and I are very excited to talk to you today about our passion for building healthy and inclusive communities through the shared occupation of dance. We chose the title belonging through dance because it really resonates with OTs, who are familiar with Wilcock model of doing, being, becoming, and belonging. Ultimately, belonging and the impact that this has on health and well-being is so important. Belonging is one of the most meaningful outcomes that we hear described by our clients. We will be sharing many strategies throughout the session, and then at the end, we do have some specific resources if you are interested in learning more.
Our Story
Here is a little more about our story. Jade and I are sisters, dancers, and occupational therapists. We are originally from Milton, Ontario, Canada, and we are now living in Toronto. We are co-founders of the Dance Ability Movement. We started our first inclusive dance class eight years ago. We continue to work in additional pediatric roles in occupational therapy in the community as well. Throughout our lives, dance has kept us active, engaged in our communities, and provided us with a purpose. It has also contributed to our own physical and mental health and wellness.
For us and for many children, dance is a meaningful occupation. It is even included in the definition of occupation from the Canadian Association of Occupational Therapists. It states, "Each of us has many occupations that are essential to our health and well-being." Occupational therapists believe that occupations describe who you are and how you feel about yourself. A child, for example, might have occupations as a student, a playmate, a dancer, and a table setter. We think it is really important for OTs to find ways to address leisure occupations, especially for kids, because this is critical to their development. And sometimes, it tends to be less valued in society.
Today, we are using our dance program as an example. We encourage you to think about the leisure occupations that you have had throughout your life. When I was in OT school, I watched a video about a ballet class for girls with cerebral palsy. It dawned on me that, throughout my entire dance career, I had never actually seen any dancers with disabilities or different needs. Jade and I started to explore this issue a little bit further. We realized there were many barriers to participation in dance for children who had different needs. We heard directly from a lot of families whose stories started to motivate us to take action.
Access to Dance - Barriers
There are many barriers that families reported or that we found when we started to research.
Physical accessibility
Time & resources for adapting programs
Lack of training or understanding of various needs
Misperceptions of disability
Societal perception of "dancer"
Not appreciating the value of collaboration with the family and dancer
Lack of research & models to support inclusive programming for dance and studio owners
This is not just the physical accessibility. There is also a lack of training or understanding of the different needs. There are many misconceptions about disability and society's perception of what a dancer should be. These all impact access to dance. We heard many stories of children who were being asked to leave studios because of different behaviors or families who gave up on having their child becoming a ballerina with the news of a diagnosis. They never considered it to be an option. As OTs, we have a broad understanding of these access issues, but we also like to focus on opportunities.
Our Beliefs
The reason for starting our first Dance Ability Movement class was very simple. We believe that each child is unique, that every child deserved equal or equitable opportunities, and that all children have the ability to dance. We really set out on a mission to show that this to be true. We also realized that these three beliefs fit in with our occupational therapy lens of considering the person, their environment, and their chosen occupation (Figure 1).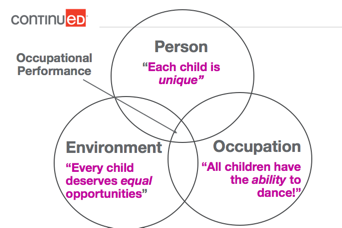 Figure 1. Dance through a PEO lens.
Through this visual representation, we can see that we can enable improved occupational performance when we consider all three of these factors. Looking at a child's strengths and embracing their unique attributes, we can provide more opportunities and environments for children. By modifying our perceptions of what dance is, it can be seen as a meaningful and valuable occupation for all children. Today, we are going to take you through some of the OT enablement skills that we incorporate with examples and tips for you to take away and hopefully apply within your communities.
Over the course of the years that we have been running our program, we have been evolving our model of how we deliver service and are exploring ways to incorporate a tiered service delivery model to meet more needs as seen in Figure 2.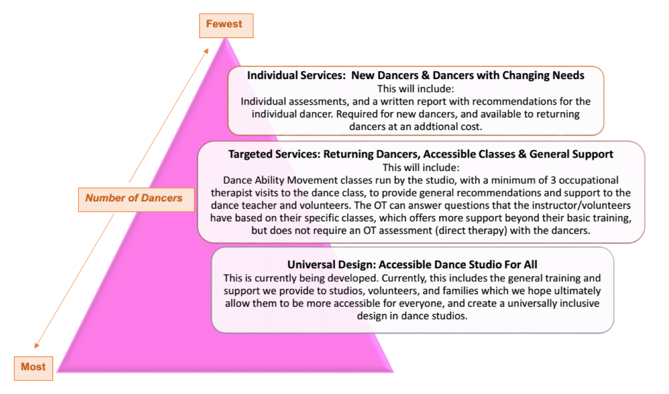 Figure 3. Tiered service delivery for the Dance Ability Movement.
We are also trying to consider funding avenues to support programming and development. Currently, our clients pay to take classes with the Dance Ability Movement. Some families do receive funding individually. We will talk a little bit about what those classes look like throughout the presentation. We have also thought about how we can improve our universal design. At one of our studios, the studio owner also instructs the class. She started to apply strategies that we coached her on. She began to use things like spot markers on the floor and different kinds of props to motivate movement. The strategies were generally beneficial to all of her dancers in the studio, and overall they created a more inclusive environment. We have also been working with studios to integrate dancers into existing classes within their studio. Sometimes these dancers have attended our program first to determine strategies that might be beneficial and establish their learning needs, and then have them become more familiar and comfortable in the dance studio environment. All of these things have helped ease their transition into mainstream classes. Now, I am going to pass the microphone over to Jade.
How Do We Practice As Dancing OTs?
We need to use our OT enablement skills. Like Mallory mentioned, we need to work on building inclusive communities through dance. The Canadian model of client-centered enablement, published by Elizabeth Townsend and Helen Politako in 2007, proposes that enablement is the core competency of an occupational therapist. Enablement skills are how the OT engages in shared decision making with their clients. It is an interactive and collaborative process. When we started out as budding OTs, we used our enablement skills to break down barriers for participation in dance in the community dance studio setting. However, these can also be applied to other community-based settings. Think about any other children's occupations. What we know is that kids just want to be kids. They want to do what their peers are doing, and we know that physical activity and fitness are extremely important and often less accessible to children with disabilities. That is where you come in as occupational therapists. We are now going to discuss each enablement skill and how you can start to think of using them to support participation and belonging for the children you work with.
Advocate
Understanding what families want; leveraging their stories
Identifying accessibility issues & creative solutions
Highlighting the benefits/value of inclusion for all
Ensuring dancers receive the supports they need

ie. 1:1 support, quieter space, flexibility with timing, the participation of parent, allowing for an "organized chaos" within the studio and the stage.
The first enablement skill that we will talk about is advocacy. When we had this idea to create an inclusive dance class, we first had to propose it to the studio owner. She gave us space to run the class, and we offered the class under her studio programming. We had an article published in the local paper, and through that, we connected with a physiotherapist who was eager to refer clients. She ended up recruiting most of our initial dancers that first year. She also volunteered with us the entire first season to get the program up and running. As an aside, this physiotherapist had no prior dance experience herself, but she saw the value of a community dance class for the clients that she was working with. It was critical to have a successful class to show others that it can be done. Fortunately for us, we built a strong team of dedicated volunteers that provided a great deal of mentorship and support in our first year. We also learned an incredible amount from the families that we worked with. When recital rolled around, our 10 dancers performed on stage just like any other class, and this was the start of a huge advocacy movement. The parent feedback after recital was incredible. While we loved hearing that the dancers enjoyed their weekly classes, seeing them on stage in costume like everyone else was where the true model of inclusion happened. So, a large part of what we do through our work now is advocacy. We are constantly advocating for what inclusion looks like, and this is often driven by what families want. It is important to the families that their kids are in the same spaces with their peers. This means getting them to attend community events, the same photo days, and recitals together. It can also mean advocating for the necessary supports that our dancers will need. This may be a quieter place to wait backstage, flexibility with drop off and pick up times for shows, or sometimes even allowing parents to come backstage to help support. Mostly, it is just an understanding that our dancers may not look as organized as everyone else, they may be coming on stage with one shoe, or making a lot of excited squeals as they enter the wings, but ultimately, they are having just as much fun. They always end up being the most memorable from the audience perspective. We like to warn people if it is their first class with us. We call it organized chaos. The bottom line is that it is your job to advocate for them. Parents often end up doing a lot of advocacy and are so appreciative to have supportive OTs who are willing to do this. We are trying to teach the world to see the ability. The more we can make a societal change, the fewer barriers there will be to community participation for kids who are a little bit different. We have aligned ourselves with different community associations that our clients are members of to continue our advocacy efforts. We encourage you guys to do the same. If you are starting up your own programs, you are not going to know what to advocate for unless you consult the right people. These key players include everyone who is a part of the team.
Consult
Asking families – they know their child best!
Talking to therapists – strategies to support participation?
Offering solutions to identified barriers for studio owners
Supporting teacher's to develop inclusive teaching methods; as well as specific strategies to meet new dancers' needs
Asking dancers – music? What do they want to do? What's important to them?
This initial consult process is valuable to you as an OT, especially if you do not have a dance background. You can gather information from the teachers and studio owners who are the experts in dance, as well as from your clients and their families, who are the experts in knowing themselves or their family member. Meanwhile, you are the expert in enabling occupation. By putting the pieces together, you can find the "just right" fit. You may consult for any leisure occupation, not just dance. You may also consult with community advocates or other therapists for accessibility, advocacy, or inclusion. When you are consulting, you are seeking out information and then assisting to offer solutions to promote inclusion.
After consulting with others to begin our program, we have hired other occupational therapists who do not even have a dance background to consult with dance teachers. The dance teachers often value input from OTs regarding how to improve accessibility, teaching methods, and class structure. The OT may suggest more inclusive language or slowing down teaching to allow for processing time. They may even provide education on a specific diagnosis. For example, kids with Down syndrome often have joint laxity. If a child is able to drop down in a split, a dance teacher may think they have really good flexibility and promote that, rather than being aware of the risks associated with hypermobility and potential dislocations. Similarly, because dance teachers often provide physical cues and hands-on corrections to their students, it is important for them to learn about tactile sensitivity and how this might affect a dancer with sensory processing needs. The consultation becomes a creative process between the OT and the dance instructor. Our program has evolved to look different at each of the locations depending on the many dynamic factors like the instructor's prior knowledge and experiences, the specific children that enroll in the class, and the dance community that is already established within the studio.
Design
Universal strategies (accessible space, inclusive language, visual schedules, and visual cues in environment, i.e. stop signs on doors).
Studio Kits with additional tools (i.e. spot markers, communication aids, Movin Sit Cushions, noise-reducing headphones, instruments, timers, etc.)
The structure that allows time for feedback, communication, and relationship-building between all parties
After you have done some consultation to discover what is important and what potential barriers or opportunities there are, you can then go on to decide how you will design a class. You can collaborate with a teacher or design a support system for your client within an existing class in their community. This includes using client-centered values to design class structure, choreography and costuming. In general, think about how can you design visuals to support transitions or instructions or how the environmental design can be universally inclusive. For example, one of our OTs made stop signs for the studio doors which helped prevent dancers from leaving the space or opening the door during class. We have also coined the term client-centered costuming when thinking about various sensory processing needs and how that impacts the costume style. Costumes are often very tight fitting, itchy, and covered in sequins. We want to make sure our dancers feel comfortable and confident on stage and have adapted body suits to allow for easier washroom access as well. We have also started to try having the volunteers in matching costumes to create that cohesive team. This fosters that sense of belonging for the dancers. Other tools that we have in our studio kit are spot markers, to help with formations, noise reducing headphones, visual schedules and timers, and a variety of props.