Sara: Thank you for the introduction. I am excited to present this information to you today, because I think that it is not only applicable if you want to go out and educate those who work in early childhood environments like daycares, preschools, and early intervention sites, but also if you are a practitioner who works with young children in these settings. This information may also benefit you as you treat children. One reason that I decided to put this presentation together and have been doing work in the area of childcare-related tasks is that it is a really tough job. It is also enormously important. I started my career in pediatrics and worked with children who had various disabilities. In addition to that, I am the mom of three little boys myself. I have a lot of experience to draw from not only in my role of a mom but also a worker and an occupational therapy practitioner.
What is the Role of Ergonomics and OT with the Childcare Worker?
When I am talking about childcare workers and childcare related tasks, it could be any discipline in any setting. It is really anyone who interacts with young children. As I said, I spent my first few years of practice in a residential treatment facility for children who had special needs and various diagnoses, but all of them had some kind of a behavioral and emotional diagnosis that would impede their ability to be in a regular ed classroom. Most of them did not live at home, but rather they lived at the facility where I worked. During this time, I was also involved doing in providing hippotherapy. I drew from these experiences when thinking about what childcare workers would be doing throughout the day.
While this was a great experience for me for a few years, I ended up leaving pediatrics and started working at a large University Hospital in an acute care setting, and then eventually found my way into an outpatient department where I became a certified hand therapist. Now my focus has moved to orthopedics and conditions of the upper extremity. I get to work as part of a work conditioning team looking at individuals in various occupations to help them return to their job after an injury. In addition, I go into the community and perform job site evaluations, and this really piqued my interest in ergonomics. I liked to see how workers could be more comfortable at work or return to work after an injury. The settings were everything from offices to labs. I even spent a good amount of time in a meatpacking plant, treating those workers for injuries and also trying to prevent injuries as well.
During this time, I realized that caring for young children is also a demanding job. In particular, I looked at the role of a new mother in caring for babies. Viewing these tasks through an ergonomic lens helped me to realize that there are many moms that are not going to seek out help for themselves if they run into problems. It really became an interesting topic for me. While new mothers have their own set of challenges with caring for new babies and potentially other children in their household, anybody who interacts or cares for babies, toddlers, and young children is going to run into some of the same some physical challenges. Again, these individuals may not seek out help because the focus is on caring for the children. The other problem is once aches and pains begin, they are really tough to rehabilitate. The best outcome will come from changing the underlying behaviors and activities that are causing these issues as part of preventive education.
Ergonomics
There is a general definition of ergonomics. "There needs to be a fit between the person and the task." The problem is that most of the time when you take a job, you need to fit within that job as shown in Figure 1.

Figure 1. Ergonomics definition.
The pic on the right shows the person being overwhelmed by the job. "Here is the job, now you need to figure out how to do it." Ergonomic principles are used to look at the components of the person and the job to make sure that there is a good fit so that person can continue to do the job and avoid injury. Ergonomics is also a pretty trendy term, so you will hear it in a lot of different scenarios as in trendy office items like ergonomic chairs and staplers. You also hear the term used a lot with tech devices and different gadgets. The Occupational Safety and Health Administration, or OSHA, created ergonomic guidelines for various industries in order to avoid injury at work. You can even apply ergonomics to sleep. I think that sometimes OT practitioners think, "I'm not trained in ergonomics so I can't do this type of therapy with my clients," but I hope that you will see that it is really just a fancy term, and it is what we do as occupational therapy practitioners. We do fit people with the jobs they need to do, and we consider the environments in which they work. This is natural for us as occupational therapy practitioners.
The International Economics Association also says that ergonomics takes a holistic approach and looks at the physical, cognitive, social, and environmental factors. As you can see, all of those things really fit with occupational therapy as well. This is innate to us. We look at people holistically.
Occupational Therapy
We are going to take all those factors into consideration as well when looking at an individual and their occupational performance. In terms of applying a theory or model here, I think that the PEO model really fits (Figure 2).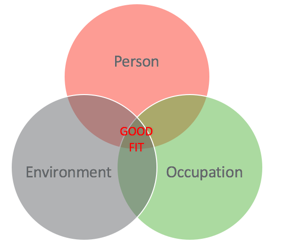 Figure 2. PEO model.
To use the PEO theory, we know that these three things are interactive. You cannot really look at one without looking at all of them because of the influence that they have on each other.
Person. Thinking about the components of the person, we have a background in anatomy, physiology, and biomechanics. We evaluate strength, range of motion, and cardiovascular capacity. We look at the cognitive and psychosocial aspects of a person to see what skills they have. It is looking at the whole picture of the person.
Occupation. Occupations are what make up an individual's day. It can be self-care, leisure, managing the home, working, sleeping, going to school, or participating in social events. OT uses activity analysis when looking at occupation as that is one of our fundamental skills.
Environment. In terms of the environment, we know that this does not just mean the physical environment. It can also look at the social, cultural, and temporal environments.
When the Person, Environment, and Occupation are all working really well together, we call this a good fit or optimal occupational performance. For example, if you are working in childcare, we are going to assume that you have the physical, the cognitive, and emotional skills to perform the job. You have all of those components, and you can perform all the jobs if you break them down. And, you do this within an environment that supports you. It could be social support like friends, family, supervisors, and colleagues.
Occupational Therapy and Ergonomics
Occupational therapy and ergonomics are a really great fit. Occupational therapy services help to support the worker to do his or her job and make sure there is a good fit between the person, job, and work environment. Also, if looking at a wellness and prevention model, there are opportunities to use OT to promote workplace wellness. I think there is a misconception about ergonomics being only related to work and industry. This could intimidate some OT practitioners and prevent them from utilizing their skills. However, this is a part of our skill set as OT practitioners. We should be comfortable completing an activity analysis, adapting or grading tasks, and evaluating an environment so it can support function.
Return to work after an injury or illness or in the presence of a disability
Health promotion – assessments and interventions to optimize function
Injury prevention education
Consulting with employers and/or insurance companies to keep workers' compensation costs low
Support the worker and promote workplace wellness (AOTA, 2017).
Some of the areas where you can see OT and ergonomics working hand-in-hand would be when a worker gets injured has an illness or figuring out how someone can work in the presence of a disability.
Health promotion means that we can help workers that are uninjured. We can help them to do their job better, safer, or in a healthier manner. They can optimize their ability to do their job.
Prevention is another way that we can work with workers who are not injured, and we want them to stay healthy by educating them on workplace prevention of injury.
Finally, consulting is working with employers or insurance companies to look at workplace wellness and prevent injuries to reduce workers compensation costs and keep healthy workers on the job. We can look at individuals or we can look at populations such as childcare workers. We can work with those who are injured or those who are not injured, but the overall goal is to decrease injuries, decrease fatigue, aches, and pains, increase productivity and workplace morale, and then increase the ability to enjoy things outside of work. You can imagine being injured at work is no fun, but sometimes those injuries carry over to the personal life as well. You cannot do the other things that you need and want to do outside of those work hours.
Musculoskeletal Disorder
When talking about workplace injuries, this can be anything. It can be falls, lacerations, broken bones, or burns. One common group of disorders that ergonomics can directly help to prevent or rehabilitate is musculoskeletal disorders. These are any injuries that affect muscles, tendons, ligaments, nerves, or blood vessels. Muscle sprains and strains make up a huge portion of musculoskeletal disorders, so it is really an umbrella term. You might hear it called other things like cumulative trauma disorders, repetitive stress disorders, or overuse syndromes. They are usually caused by a repetitive motion during a task, being in a sustained position over time applying a forceful movement, staying in an awkward posture or position, and then sometimes, it is what we call contact stress or pressure points where there is an impingement upon a tendon or a nerve.
Another thing to consider is the types of jobs. They may have factors such as vibration that is not directly causing the injury, but they could be contributing or exacerbating a musculoskeletal disorder. Sometimes this begins with just a feeling that the body is tired. As you can imagine, this is normal at the end of your day. You are tired as you have worked hard. If that tiredness starts to creep into the beginning of the day or early in the workday, this is definitely a sign of a potential problem or a risk for a musculoskeletal disorder.
According to the Bureau of Labor and Statistics, 31% of total injuries reported for workers were musculoskeletal disorders (2015). This seems like a high number. The average number of days that somebody missed for a work injury was eight, but if that work injury was a musculoskeletal disorder, the average number of days missed was 12. Musculoskeletal disorders, especially with job-related tasks, are avoidable. Sometimes accidents happen, but musculoskeletal disorders with the proper education can be avoided.
Childcare Worker Overview
Let's look a little bit at the role of a childcare worker in Figure 3.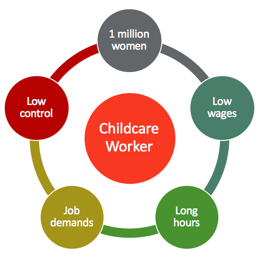 Figure 3. Role of a childcare worker.
This comes out of a recent study out of the University of North Carolina in the International Journal of Environmental Research in Public Health (Linnan, Arandia, Bateman, Vaughn, Smith & Ward, 2017). It looked at the health and working conditions of women employed in a daycare-type setting. Why women? Women make up 95.5% of the childcare worker population, and there are also over one million women childcare workers in the United States. It is one of the 10 most prevalent occupations for women, and it is also one of the lower paid occupations even though they are entrusted with a very valuable asset. There are a very large variety of job demands. The job demands are physical, mental, and emotional. This study found that with all of these demands, the worker had little control over their job and deciding how their day was going to go. It also was physically exhausting, and the physical exhaustion carries over to the home life.
There are some studies that have linked to these factors to higher job insecurity and high job strain, as well as overall health impacts. In the largest study that was done of childcare workers, it looked at over 2,000 childcare workers in Pennsylvania. They found that 75% of these workers had some type of chronic health condition or a health risk factor such as excessive weight, insufficient activity, unhealthy diets, inadequate sleep, and depressive symptoms. While this study solely looked at a daycare population, the findings are probably not going to vary much from somebody who works in a preschool or early intervention center.
The role of childcare worker is demanding and has a high risk of burnout. The other problem is that there is much more being done about the impact of the care on the child than the impact of the job on the childcare provider (King, Gratz & Kleiner, 2006). I found this was the same thing when I researched new mothers caring for small children. There was so much out there about what to do when you have a baby and how to care for them regarding feeding, sleeping, and play, but there was very little to say about how a mom should care for herself. It is the same thing when I looked into the topic of childcare workers. There is so much information out there about how to make a rich environment for a child, but there is very little out there about the childcare worker.
Closer Look at Childcare Workers
One study by Bright and Calabro, despite being from 1999, had some really valuable information that is mirrored in some more recent studies. This one had the most comprehensive way of presenting it. They looked at childcare workers in the United States, the occupational hazards, and what is in place to prevent occupational hazards.
Variation in where childcare workers are found

Creates a gap in health and safety controls

A 'dangerous' profession?
Hold multiple roles
Stress
Environmental exposure
They found a variation in where childcare workers are working. I am sure that you can imagine this. They can work in a public facility, large or small, or within somebody's home. It can be caring for one or two children or many. It can be caring for many children. Due to this large variation, it creates a gap in the safety net for these workers. It makes it harder for health and safety professionals to assist with regulations and guidelines, and it makes it less likely that you are going to find wellness programs or health promotion policies that are going to support the worker.