Gina: Thank you, everybody. I am so happy to join so many wonderful people coming this afternoon. I am really excited about having the opportunity to present an introduction to hippotherapy for occupational therapy practitioners. This is something I have spent a lot of my OT career focusing on, and it is really important whether you are interested in working in this area and using this as a treatment tool in your practice, whether you have clients that see other therapists and they incorporate hippotherapy into their practice, or you just want to make referrals. It is always good to have some information and some background on this topic.
This is a common quote out there, but it speaks to the fact that occupational therapy focuses on the whole person and using horses and the equine environment integrates multiple dimensions of healing for our OT clients.
There is something about the outside of a horse that is good for the inside of a man.
~Winston Churchill
We are going to look at our learning outcomes for today. The first one is to describe the term hippotherapy as an occupational therapy treatment tool. We want to know how this fits into our toolbox and recognize the way hippotherapy can be applied to the three categories of intervention as defined by the Occupational Therapy Practice Framework. Lastly, we want to be able to list three practitioner qualifications for certification. For those people who are interested in becoming certified, this will give you some information on practitioner qualifications.
Current Description
Hippotherapy does not have a current definition, but rather a description because it is an evolving treatment strategy and tool.
The term hippotherapy refers to how occupational therapy, physical therapy, and speech-language pathology professionals use evidence-based practice and clinical reasoning in the purposeful manipulation of equine movement to engage sensory, neuromotor, and cognitive systems to achieve functional outcomes. In conjunction with the affordances of the equine environment and other treatment tools/strategies, hippotherapy is part of a patient's integrated plan of care.
It is a clinician's ability to manipulate the movement of the horse. And through that, we are seeking to influence the sensory, neuromotor, and cognitive systems of the client with the goal being functional outcomes. I do not necessarily focus on how they perform while they are sitting on that horse, but rather how much that translates to functional outcomes. We look at that in conjunction with affordances, again of the equine environment, and other tools and strategies that we are going to use because hippotherapy is always used as part of a patient's integrated plan of care.
We are not going to be talking about horse selection or horse training although it is really important as it is a part of the process. We are also not going to be covering the clinical reasoning part of using the horse in OT sessions, equipment, therapeutic handling, or billing and reimbursement. Those are definitely more advanced types of topics. This is the introduction to hippotherapy as well as the equine environment.
Hippotherapy-Part of a Plan of Care
Hippotherapy is used as part of a plan of care. It is a treatment tool that is used in conjunction with other treatment tools like Floortime strategies, getting that joint attention, or sensory integration strategies, working on self-regulation. Best practice indicates that hippotherapy is incorporated into the plan of care including treatment in a clinic, at the client's home, or in a community setting. It is not done exclusively. The whole session does not focus on the time that is spent on the horse, but the OT session is inclusive of time on the horse as well as time in a clinic. And then, hippotherapy is not used as an exclusive tool.
Here are some examples of the way hippotherapy is used with other treatment tools (Figure 1).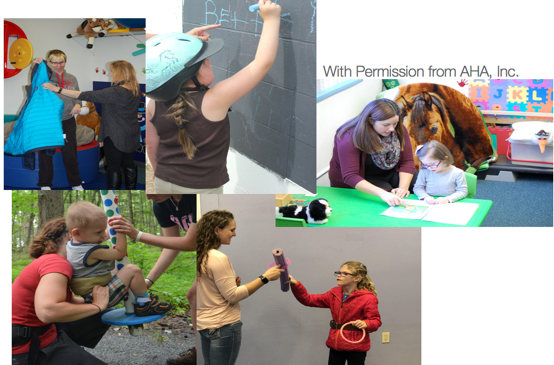 Figure 1. Other hippotherapy treatments.
In these pictures, the focus is on an integrated plan of care. We might do only a portion of our OT session on the horse. We might have the client write about their experience. We might have them using communication strategies to explain what they would like to experience in the session. We might have some off horse areas where we are integrating gross motor activities.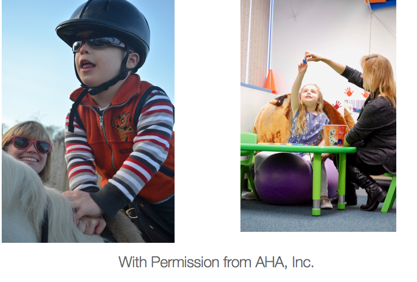 Figure 2. Other examples.
Some of those experiences could be indoors or outdoors. The focus is on functional outcomes.
OTPF- Client Factors
We are going to now look at the benefits of hippotherapy as related to the occupational therapy practice framework-client factors.
Balance
Body awareness
Multi-sensory processing
Righting reactions
Motor planning
Postural alignment, stability, and security
Mobility
The horse's movement, as directed by the clinician, can facilitate a lot of changes for the clients. It is our goal as the occupational therapy practitioner to then go ahead and relate those back to functional outcomes. For example, a child or a young adult may have difficulty with body awareness, but through that movement on the horse using specific equipment to focus on body awareness, we can then translate that over to better performance in a playground setting or better performance when they are at school. We can take those changes in client factors and translate them into other functional goals. This is the way that hippotherapy is successfully integrated into occupational therapy treatment and goal setting.
How Does Hippotherapy Work?
Why does it make changes in client factors? The use of hippotherapy is based on dynamic systems and motor learning theory. It also relies on principles for sensory integration and NDT. All of those are integrated into the belief that repetitive movement of the horse makes a difference on client factors.
Motor Learning Principles
For our motor learning principles, there are a lot of opportunities for the client to practice righting and balance reactions. With each step that the horse takes during a treatment session, the client continually has to rebalance and realign themselves with the movement of the horse. It requires continuous problem-solving of where they are in space in relation to the movement of the horse and in relation to the ground. There is also a lot of variability in the practice. The horse does not always move consistently the same way. For example, the therapist can direct if they want the horse's stride to be lengthened or shortened by the horse's handler.
Neurodevelopmental Treatment Principles
Using NDT, there is facilitation and inhibition by that graded movement. We can facilitate flexor or extensor balance. We can facilitate lateral weight shift to a weight bearing or non-weight bearing side. We can help the client to be more symmetrical left to right and also to balance flexors and extensors as the horse naturally provides this more symmetrical seating position. And then, as long as the horse's movement is symmetrical, this is going to be continued throughout the session. The horse also promotes movement disassociation within the context of active movement. The client is constantly moving throughout the treatment session as the horse is being directed to move with dissociation of upper trunk and pelvis and dissociation between the upper extremities and lower extremities. The horse provides a rhythmic, repetitive, symmetrical, bilateral weight shift and heightened feedback on the midline. Those are all fundamental principles of NDT, and we see those all in hippotherapy sessions when the patient is seated on the horse.
Sensory Integration Principles
Sensory integration principles are also a part of hippotherapy and its effectiveness. The use of the horse provides opportunities for sensory processing and sensory modulation in the context of a meaningful activity. Parents and children often report that this is something that they look forward to each week. They look forward to coming to their OT sessions. They look forward to seeing the horse. And through that, we can work them through some areas of challenge in sensory processing. The therapist is responsible for grading the sensory input to improve sensory processing. So noticing that the client might be becoming overwhelmed and downgrading the movement that's being provided or changing the environment from an outdoor environment to an indoor environment. Those are all important areas when we're looking at sensory integration principles. And then affecting for the just-right challenge, right? We want the client to be challenged but not overwhelmed, and sometimes the environment can be overwhelming to children with sensory processing issues, or the amount of movement that a horse provides, so making sure that therapist or therapy assistant is able to then go ahead and downgrade that movement and upgrade the movement to allow for a just-right challenge is what can make hippotherapy an effective treatment tool.
Specific Populations
Here are some examples of the way that hippotherapy can be used with a specific child or patient populations.
Mild Hypotonia
When we are looking at a child with mild hypotonia, we want to facilitate increased tone and more weight bearing for that child. We would also be looking at a medium or narrow base of support if there is hypermobility with that hypotonia. We would want movement from the horse in the anterior and posterior plane and looking to minimize kyphosis or posterior pelvic tilt. We might also be using alternative positions that might be a side-sitting or a backward sitting position. The goals for this child might include increasing access to the play environment, increasing endurance to keep up with peers, and improving motor planning for dressing or self-help skills. Again, hippotherapy is one treatment tool in the toolbox.
Sensory Processing Challenges
The selection of the movement is especially important for children that have difficulty with modulation. The horse really needs to be able to listen to the horse handler and grade their movement in order to provide that just-right challenge. We might use stirrups so the client can rest their feet and can engage in active weight-bearing. We can increase active proprioception as well.
The farm or outdoor environment is definitely multisensory with many sounds, smells, other input. There is going to be a variety of different input that is usually very novel to the client, and we need to decide what environment might be best for that child.
We can incorporate changes of pace, direction, positioning, and vertical displacement to increase the vestibular input. For children who often have difficulty integrating vestibular proprioceptive and tactile input, this treatment tool can be extremely effective. We need to monitor for signs of overstimulation if that is a concern. Again, with the variety of different sounds, smells, movement experiences that they are having, this can be a challenge as children start to incorporate this tool into their plan of care. Goals for this child might include improving self-regulation to engage in peer play and improving body awareness to enhance self-care skills.
Hypertonia
For a child with hypertonia, we need to provide smooth equine movement. We do not want a lot of concussion. We want that horse to be able to adjust well if we notice that the child is having trouble accommodating to the movement of the horse or is having increased tone. The width of the horse is especially important when we are looking at children with high tone. A horse that is too wide will often cause a posterior pelvic tilt, and then we cannot get normal movement through the pelvis to facilitate more normal tone through the trunk.
Alternative positions such as prone or supine can be used to elongate shortened muscle positions. Supine on the rump position can be used for stretching of the hip flexors, lengthening of the pectoral muscles, and general relaxation. Stretching prior to transitioning onto the horse can help to improve pelvic positioning. We can also use blocks or supports as well as looking at our equipment to make sure that we can get a neutral pelvic position based on the width of our horse. Our goals here might address the modulation of tone to improve motor planning again with a focus on self-care and play skills.
OTPF-Evaluation
Now, we move on to how this tool fits into the OT Practice Framework for evaluation. Who can benefit from occupational therapy using equine movement and this environment? Some of the clients that we tend to see fall in these categories.
Autism Spectrum Disorders or Pervasive Developmental Delay
Cerebral Palsy
Cerebral Vascular Accident (stroke)
Traumatic Brain Injury (TBI)
Spina Bifida
ADD/ADHD
Genetic disorders
Sensory Processing Differences
Mental health diagnosis
Occupationally deprived or those who would benefit from wellness programming
We can also focus on mental health diagnoses and those who are occupationally deprived. These are areas that are important for occupational therapy practitioners when we are looking at using hippotherapy and using the equine environment. This can cover kind of a broad range of areas.
Our evaluation is very similar to an evaluation that would be done in your traditional clinic or hospital setting. First, we need to develop an occupational profile. I do this by interviewing the family member as I primarily work in pediatrics. If the child is old enough to participate in that interview, I solicit their comments as well. I also use clinical observation by engaging them in some tasks in our treatment room. This includes an analysis of occupational performance. You want to include standardized measures. One of the ones I include is the BOT-2 (Bruininks-Oseretsky Test of Motor Proficiency, Second Edition). I am sensory integration certified, but I do not find that my clients are able to work with the SIPT (Sensory Integration and Praxis Test). Generally, they are not able to follow the directions for the SIPT. I also use the COPM (Canadian Occupational Performance Measure) as part of my occupational profile. I like the PEDI (Pediatric Evaluation of Disability Inventory) and the Sensory Profile™ 2 as well.
As part of our evaluation, we want to include a mounted portion so we can assess the client on a horse, and how they respond to the movement of the horse. We also need to collaborate with family and clients on goals. It is important to find out why they are coming to your particular clinic for therapy and why they want hippotherapy integrated into their client's or their child's plan of care. It is your professional responsibility to determine if the client is appropriate.
In addition to the things that we would typically consider when we are in a clinical environment, there are other unique factors to consider. Why do they want to have the horse integrated into their OT sessions? Has the child been in OT for a while and has plateaued? Is the person particularly motivated by horses, or do they really like animals? Do they feel that the sensory aspect of hippotherapy would be valuable to their child? As the clinician, you are looking at the benefits to see if they outweigh the risks?
The Risks
It is important to explain the risks to the family. A lot of the families that we work with do not have a lot of experience with large animals. We need to help them understand what those risks might be. Risks include:
Falling off the horse causing injury or death
Sudden movements causing whiplash
Getting stepped on
Allergic reactions
If a horse is frightened or provoked it may divert from its training and act according to its natural survival instincts which may include, but are not limited to stopping abruptly, spinning around, changing directions and/or speed at will, shifting its weight, bucking, rearing, kicking, biting, and/or running from danger.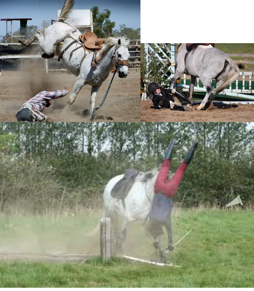 Figure 3. Examples of risks.