David: Hello, welcome. I am thrilled to be with you today to talk about the importance of leisure for our students living with autism as well as students living without autism. Anyone can benefit from the mental health benefits that a nice array of leisure interests and hobbies afford. I am going to go into why leisure is so great and what it does for you, and I will also show you some examples of some of that in action. I am really excited to share some of the great things that my personal students have been able to do.
Why Leisure?
Why leisure? What is the first thing that you say on a first date or when you meet someone at a party? It is usually something like, "Hey, what do you do for a living?" The next things might be, "What do you do for fun? What are your hobbies? What music do you listen to? What do you do in your spare time?" The answers to these questions help someone understand what kind of a person you are or help you understand what kind of a person someone else is, and what their values are. Imagine if you asked someone what they did for fun and their answer was, "Nothing," or "I do not know." I think of this as being extremely isolating, and it is hard to imagine being fully mentally healthy without having leisure opportunities.
"Leisure" Dramatically Impacts Mental Health and Overall Healthy Functioning
As OT's, we know that functional real-world occupation makes us who we are and makes us healthy mentally and physically and that leisure dramatically impacts mental health and healthy functioning in everyone. I am going to spend the majority of my time talking about students with disabilities, but I wanted to highlight some real-world examples of typically-developing people in my life that I marvel at what they can do. I also want to talk about what leisure has done for me, and how it helps me to be mentally healthy. I think if we do not live this stuff ourselves, it is hard to advocate and do great things for kids. I want to first share some stories. I share these folk's stories with their permission.
One person that I would like to highlight is an Olympic athlete that I went to occupational therapy school with (shown in Figure 1). At the age of 18, Brian Sheridan sustained a spinal cord injury at the C5-C6 level in an accident.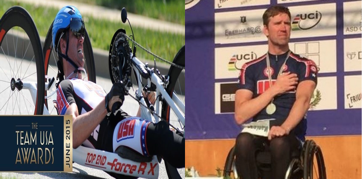 Figure 1. Brian Sheridan.
It was a pretty incredible recovery process that he had to go through. This was a guy that was six foot five, an athlete his whole life, and then went through the effects of a spinal cord injury. He is one of the most accomplished people that I know and is a dear friend. A big part of his healing was going back to that athletic mindset of working hard, sacrificing, and overcoming obstacles. In his recovery, sports became a big part of that for him. He discovered wheelchair rugby. I do not know if you have ever seen wheelchair rugby being played, but it is a pretty incredible sport. I would highly recommend a movie called "Murderball" because that is what they used to call it. The wheelchairs they used look like old-school Roman chariots, and there is a lot of contact. It is awesome. Brian went to the Paralympic trials in wheelchair rugby. He later discovered hand cycling and became a member of Team USA for the Paralympic team and received a bronze medal in the Rio Paralympics. This is a guy that owns multiple businesses, is married, and is a great father. Sports and leisure have really had a big impact on his life.
The next guy is Mike Pistorino as seen in Figure 2.
Figure 2. Mike Pistorino.
I had the good fortune to work with him and have known him for many years. He grew up in New York City, was a victim of childhood sexual abuse, and had a very traumatic childhood. For a time, he was involved in drugs and was incarcerated. He tells his story very candidly. He has gone on to do a lot of healing work for those surviving childhood sexual abuse and has gone on to become a huge advocate and public speaker. He also took up running. He calls it, "Surviving to Thriving" and the name of his non-profit. He runs marathons, and he has done a lot of healing work with the Cleveland Rape Crisis Center. He raises money and donates all of the funds to this organization. Mike is another person that I am blessed to know personally. Leisure has dramatically impacted his mental health and his healing and allowed him to do advocation work.
Recreation and leisure are a huge part of who I am and what I value (see Figure 3).
Figure 3. Me.
I am trying to be a 50-state marathon runner, and I am getting close. I just ran my 50th marathon last weekend. I am also a coach. That is a big part of who I am too. A few years back, I let the running slide, and I put on a little bit of weight. I was not feeling very good about things. I had ended a long-term relationship end and my father had passed away. At that time, I had many stressors come up and had a really difficult period. I was rundown, had less energy, and was not as mentally healthy. I decided to rededicate myself over the next few months. At 35 pounds lighter and with lower blood pressure, I am back to running. It has helped me. The two pictures on the right show a happier person. In the far right picture, this is when I ran the Pikes Peak Marathon a couple years back. It really helped me get back on the right track.
The last person I am going to highlight is Staff Sergeant Todd Domerese (see Figure 4). He is my brother-in-law and I am very proud of him.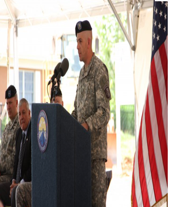 Figure 4. Staff Sergeant Todd Domerese.
He is more than a brother-in-law. He has been part of our family since our teenage years and has been with my sister for 20 years. He is also the father of my nephews. He was a soldier in the United States Army and is now retired. On December 27, 2004, he was on routine patrol and hit two IEDs in his Jeep. He had shrapnel in his face, a fractured skull, and a traumatic brain injury. The gunner in his Jeep was killed, and he went through a multi-year struggle with mental health and depression and all of the fallout of a traumatic brain injury. During this time, he rediscovered biking and running. I was lucky enough to go with him to ride bikes with President George W. Bush right there on his ranch in Texas several years back. He now advocates for soldiers with post-traumatic stress and traumatic brain injury difficulties. Running and biking was a way for him to rediscover his family in dealing with post-traumatic stress. In summary, recreation and leisure have been a big part of our lives and have helped us to thrive in life and not just survive.
Positive Education Program (PEP)- Guiding Principles
I have worked for quite a long time with students with autism and developmental disabilities. These are students that are very isolated and that have severe and challenging behavior. I work for an agency called the Positive Education Program and a school within that agency called the Prentiss Autism Center. We blend education and mental health services, and we are based on a set of principles called the Re-ED principles. Dr. Nicholas Hobbs, in the 1960s, at Vanderbilt University, did a lot of work on how to engage the most challenging students. He called them troubled and troubling children. He is the godfather for our agency.
Another part of our guiding work relates to leisure and the Sanctuary model by Dr. Sandra Bloom. The Sanctuary Model is a whole system of utilizing trauma-informed care, and there are seven sanctuary commitments. We went through a long process and a lot of resources to become certified in utilizing the Sanctuary Model. These are the seven commitments that we live by.
The Sanctuary Model
Nonviolence- Safety = Physical, Psychological, Social, Moral
Emotional Intelligence- Human behavior makes sense
Social Learning- Mistakes happen and we must learn from them
Open Communication- Information is the flow of life
Social Responsibility- There is power in groups and safety in number
Democracy- Complex problems require complex responses
Growth and Change- All change means loss. Human intention can change the future.
The Re-Ed Principles
Life is to be lived now, not in the past and lived in the future only as a present challenge.
Trust between the child and adult is essential, the foundation on which all other principles rest, the glue that holds teaching and learning together; the beginning point for re-education.
Time is an ally, working on the side of growth in a period of development when life has a tremendous forward thrust.
Competence makes a difference; children and adolescents should be helped to be good at something, and especially at schoolwork.
Time is an ally and this is an important concept that goes back to leisure. For a student with severe challenges, it is going to take time and effort to help kids be able to get the opportunities that they want, need, and deserve. Competence makes a difference. When people do something well, they feel good about it. They do better and their mental health is better.
Self-control can be taught and children and adolescents helped to manage their behavior without the development of psychodynamic insight; symptoms can and should be controlled by direct address, not necessarily by an uncovering therapy.
The cognitive competence of children and adolescents can be considerably enhanced; they can be taught generic skills in the management of their lives as well as strategies for coping with the complex array of demands placed on them by family, school, community, or job; in other words, intelligence can be taught.
Feelings should be nurtured, shared spontaneously, controlled when necessary, expressed when too long repressed, and explored with trusted others.
The group is very important to young people; it can be a major source of instruction in growing up.
Ceremony and ritual give order, stability, and confidence to troubled children and adolescents, whose lives are often in considerable disarray.
The body is the armature of the self, the physical self around which the psychological self is constructed.
Communities are important for young children and youth, but the uses and benefits of the community must be experienced to be learned.
In growing up, a child should know some JOY in each day, and look forward to some joyous event for the morrow
A child should know some joy in each day which is the most important one if you ask me. And if you look at the physical self from which the psychological self is constructed, boy that sounds very OT, doesn't it? Dr. Hobbs was not an OT. The body and the soul and the mind go together.
Guiding Framework: Every Moment Counts
I have had the blessing to work with Dr. Sue Bazyk from Cleveland State University as part of a project that began in 2011. The tenets are:
Address the mental health needs of ALL children
Promotion of mental health and flourishing in ALL
Early detection and intervention for those with mental health concerns.
It is a public approach to mental health, and she came out with a book, "Mental Health Promotion, Prevention, and Intervention With Children and Youth." All that started back in 2011 when she put out that book and that led to some grant-funded work within the state of Ohio. This website, everymomentcounts.org, shows some of the work that we have done. We wanted to promote the mental health of all kids to help them flourish. It involves early detection and intervention for those with mental health concerns. If you know the Response to Intervention (RtI), then you know about Tier 1-3 as shown in Figure 5.
Figure 5. Three tiers of RtI interventions.
Every Moment Counts Project Emphasizes
Mental Health Promotion- in students with and without disabilities and mental health challenges
The inclusion of students with disabilities and/or mental health challenges with non-disabled peers (LRE)
Integrating related services in natural school and community contexts-academic and non-academic
Collaboration among all school personnel, community providers and families
Some of the things of that we emphasize are mental health promotion. This is both in students with and without disabilities and thinking about the least restrictive environment. I am really excited to show you a couple of the real-world examples of inclusion as a direct result of some of this Every Moment Counts work. I had the tools to be able to advocate and make it happen for some of my students that otherwise would not have got those opportunities. We need to integrate related services in a natural school and community context whether it is academic or nonacademic like lunch, recess, and extracurriculars. The kids that I work with tend to be extremely isolated. Families are working so hard to get through their day. These students also have difficulty with basic communication, self-care, and with motor and social skills. It leads to an extreme amount of isolation and limited opportunities. The other part we looked at was collaboration among all school personnel, community providers, and families, and how we could do that.
Every Moment Counts Project Goals
Build capacity of OTs, school personnel and families to promote mental health and contribute to prevention and intervention
Develop, implement and evaluate model programs and embedded strategies focusing on mental health promotion
Disseminate materials using website, Pinterest, and Facebook
How did we do it? We built capacity. We did a lot of learning communities and developed things like model programs and embedded strategies. One of which was OT Leisure Coaching. By implementing this, we started to have culture change at the school. I work in my local community to try to increase opportunities for kids. We also disseminated materials.
Mental Health Promotion Initiative: Kids Thriving
As I mentioned, Mike named his foundation Surviving to Thriving. Most of the time when you hear about mental health or google the word, it will show pictures of people who look mentally ill. It will not be someone that looks mentally healthy. Being mentally healthy is not the absence of mental illness, but rather it is thriving. Some of the research that we looked at were things like positive psychology and mental health literacy, positive youth development, positive behavior supports, and mental health promotion. It is a positive state of functioning.
Positive State of Functioning
Positive affect or emotional state. Feeling good emotionally- happy, content, positive about life, etc.
Positive psychological and social function- enjoy fulfilling relationships?
Doing well functionally- engaging in productive occupation/activities – academically, socially, physically –tune into children's schoolwork, friendships, interaction during lunch/recess/after school
Coping with life stressors and challenges- observe how a child copes with a poor test grade? Losing a game? Being teased? Etc.