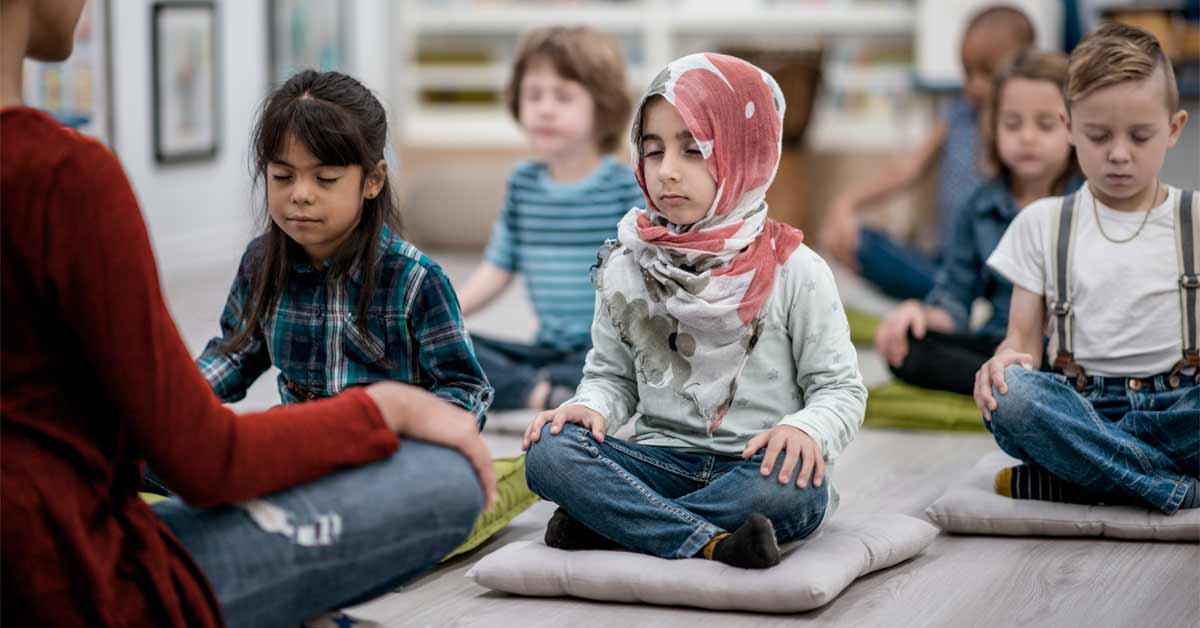 "Mindfulness means paying attention in a particular way; On purpose, in the present moment, and nonjudgmentally." – Jon Kabat-Zinn, Founder, Mindfulness-Based Stress Reduction
Occupational therapists understand the importance of teaching children how to use tools to self-regulate and focus. Mindfulness exercises have many benefits; for example, they lay the foundation for healthy coping mechanisms throughout life.
Benefits of Mindfulness for Pediatric Clients
Mindfulness's many benefits for children include improved self-regulation and improved interoceptive sensory skills (Morin, n.d.).
Mindfulness practices help to increase connectivity between the amygdala and many other brain regions that handle successful emotion regulation. This helps a child's ability to recognize strong emotions and soothe oneself. As a result, children are more flexible and resilient (Lindquist, 2017).
One of the most important benefits of mindfulness for children is that it can help them develop a growth mindset. A growth mindset is a belief that intelligence and abilities can develop through effort and persistence.
This is in contrast to a fixed mindset, which is the belief that intelligence and abilities are unchangeable. Children who have a growth mindset are more likely to embrace challenges and persist in the face of setbacks.
Mindfulness also helps children develop observational skills that lead to problem-solving and attention skills that are important for their role as students.
Here are four ways that you can introduce mindfulness to the children you work with in occupational therapy:
Guided Imagery: You can find many guided meditation scripts on blogs or YouTube—or you can simply make up your own. The key is to encourage a focus on calming sensations (e.g., soft breezes, warm sun on the skin). Keep your voice calm and soothing throughout the exercise.
Progressive Muscle Relaxation: This exercise involves tensing and relaxing different muscle groups throughout the body, starting with the toes and working to the top of the head. This is a great way to help kids identify where they hold tension in their bodies and how to release it.
Breathing Exercises: Breathing exercises are simple and effective. You can start by having kids lie down or sit comfortably with their eyes closed. Then, have them focus on taking deep breaths in through their noses and exhaling slowly through their mouths. You can also incorporate guided imagery.
Sensory Awareness: Sensory activities are a great way to engage kids' senses while also teaching them how to focus their attention on one thing at a time. A few examples include playing with putty, listening to calming music, or drawing shapes in a sensory bin.
The key is to choose an activity that doesn't overstimulate the senses so that kids can remain focused on it throughout the duration of the activity. The occupational therapist can incorporate mindfulness by reminding children to engage in the present moment.
Mindfulness is an important skill for helping children develop coping skills, resilience, and a growth mindset. As an occupational therapist, you play a role in teaching kids how to be mindful of their thoughts, feelings, and bodily sensations.
OccupationalTherapy.com offers the following courses to our members interested in learning new skills or honing existing ones. Here are courses to help build your pediatric mindfulness toolkit:
References
Lindquist, S. (2017, April 5). Mindfulness has many benefits for children. Michigan State University Extension. https://www.canr.msu.edu/news/mindfulness_has_many_benefits_for_children
Morin, A. (n.d.). Interoception and sensory processing issues: What you need to know. Understood. https://www.understood.org/en/articles/interoception-and-sensory-processing-issues-what-you-need-to-know